All over the country, old power plants are shutting down. The factors involved are numerous — tightening regulations among them, as well as mounting pressure from environmental and citizen groups — but the closure of such facilities begs the question: what exactly do you do with a decommissioned power plant?
In Austin, the historic Seaholm Power Plant district in downtown Austin offers one example of what's possible.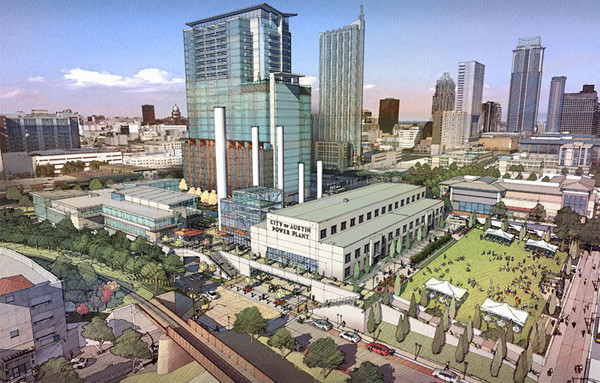 Built in 1950 and decommissioned in 2000, the Seaholm Power Plant burned natural gas and fuel oil to create power for the city of Austin for years — as a consequence, the building and its surrounding environs had some serious environmental issues. The city responded with some serious remediation for the brownfield site, and, according to The Architect's Newspaper, eventually earned a reuse certification for unrestricted use of a PCB remediation site from the Environmental Protection Agency — a first in the history of the agency. The city's efforts on behalf of the site also earned it a Gold Medal in the environmental category of the 2005 Texas Council of Engineering Companies Engineering Excellence Awards.
The 7.8-acre site is now slated for mixed-use redevelopment known as the Seaholm District through a public-private partnership. This area will include a large plaza flanking the former power plant to the north and south, creating two public spaces that will host everything from concerts to weddings to art festivals. The prominent smoke stacks of the defunct plant will be preserved, as well as portions of of the power plant's mechanical substructure surrounding the boilers, creating a dramatic background for public events.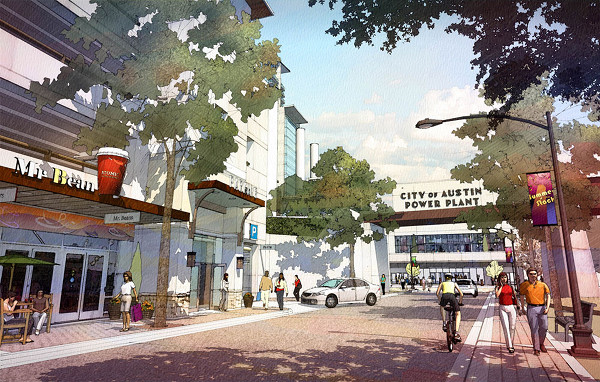 The Austin Business Journal reports that the plan calls for an acre of open space, as well as a high-rise apartment building and low-rise retail space, including a Trader Joe's grocery store, a first for the Austin area. The Seaholm District will feature three levels of underground parking, and is located within walking distance of numerous downtown destinations and the adjacent hike-and-bike trail. With plan for a future commuter rail line and an on-site bike station, the developer behind the project, Southwest Strategies Group Inc., is hoping to attract "sophisticated urban bohemians" between the ages of 25 and 50, according to Culture Map Austin.
The landscape design for the area, by Austin-based TBG, incorporates a number of green features, including native, drought-tolerant plants. Old underground intake pipes that once supplied water from Lady Bird Lake to cool the Seaholm Power Plant will be repurposed for rainwater harvesting, putting more than 300,000 gallons of rainwater at the district's disposal. Existing materials at the site will be recycled and repurposed into trellises for climbing plants and other public features.
Construction on the long-awaited redevelopment project began this summer, and is expected to be complete in 2013 or 2014.
More information on the project is available online.