In Abu Dhabi, the future's so bright, they've got to wear shades. We're talking buildings, not people, and sunshades, not tinted glasses, but still, this is a cool trend for a hot climate: computer-controlled sunshades that  block solar gain. It's a strategy borrowed from old-school Arabic architecture, with a thoroughly modern touch.
Treehugger reports that architectural screens, known as mashrabiya, were a common feature of buildings in the Middle East a hundred years ago. This low-tech form of temperature control, coupled with awnings, helped buildings to keep their cool in the heat of the day while adding visual interest to building facades. Such traditional passive solar strategies went out of fashion with cheap air conditioning, but now that Abu Dhabi is increasingly a mecca for big green buildings, architects and developers are rediscovering both the utility and aesthetics of traditional sunshades.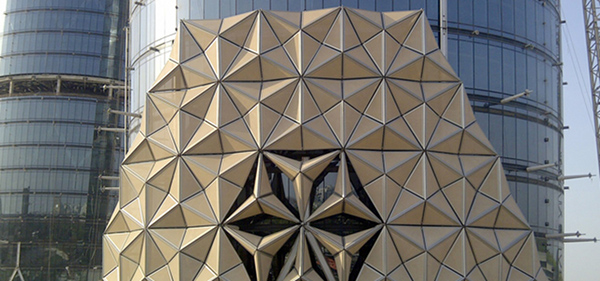 A triangular-shaped variation on the the mashrabiya theme is featured on the Al Bahar towers, designed by the architects at Aedas. These giant, computer-controlled triangular facets shade the building when required and open up when they're not.
This green building innovation does more than help to keep the towers cool, however. Springwise noted that whereas most buildings in the region feature heavily tinted windows — and, as a consequence, keep the lights on all day, burning up electricity — Al Bahar Towers was able to reduce that necessity considerably, allowing more natural light to enter the building. Photovoltaic cells on the south-facing roofs of each tower generate roughly five percent of the buildings' total required energy, further enhancing the development's ecological standing.
While these computer-controlled sunshades have a number of moving parts — and therefore cannot be classified as a passive solar strategy — it's good to see some commonsense regional traditions making their way back into modern buildings.