From abolitionism to women's rights, Quakers have historically been well ahead of the curve, as far as religious traditions go. This spring we brought you word that the Sandy Spring Friends School in Sandy Spring, Md., was in the process of adding 2,000 solar panels to its 140-acre campus. Now, in more earth-friendly Quaker news, we bring you a green remodel recently completed at the Sidwell Friends School, a K-12 Quaker school in Washington, D.C.
Architects Stephen Kieran and Jason Smith of of KieranTimberlake, writing in conjunction with Michael Saxenian, the Assistant Head of School and Chief Financial Officer at Sidwell, related the story to Faith and Form, The Interfaith Journal on Relgion, Art and Architecture. In it, they noted part of the challenge with this project — which involved creating a new school on an old campus — was to transform a 1950s-era gymnasium into a suitable house of worship.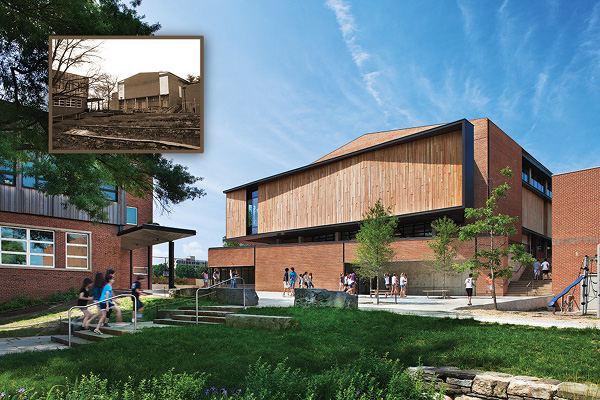 Quaker meeting is a central part of the community experience at Sidwell Friends, with every student participating in weekly meetings that consist of sitting in silence, quiet contemplation and sharing. Therefore, a dedicated meeting house was an essential element of the KieranTimberlake master plan. Following the ethic of building reuse, which Sidwell Friends has worked to incorporate into all of its planning, the ultimate design for the meeting house was tied to two tenets central to the Quaker faith: stewardship and simplicity.
In transforming the old Kenworthy Schol gymnasium into a (green) house of worship, planners made light a priority. Ceiling planes, necessary for acoustics, proved a breakthrough design element as a modulator of sunlight within the space. Skylights in the meeting house allow light to softly filter down through the planes in the center of the space. The ceiling planes overlap with the skylights and the windows, focusing the light while hiding its source.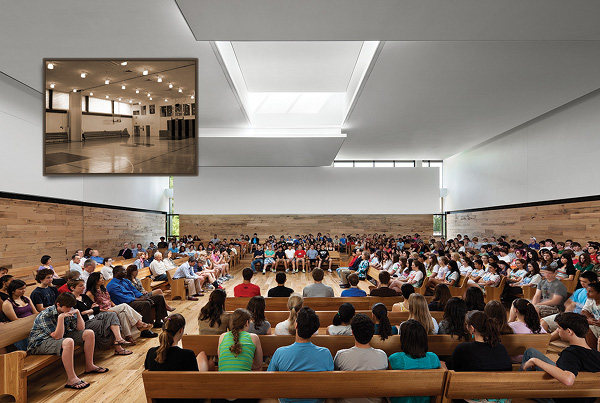 Natural daylighting, in this way, helps to create a space for spiritual contemplation while also helping to reduce the use of artificial lighting.
The authors characterize the large solar array stationed among the space's skylights "a fusion of performance and poetry." They go on to note that this array both generates electricity on the roof and forms a fundamental element of the building's form. "This seems to be a particularly important message for youth today," they note, "that you can build the art around the light itself and it will generate renewable energy; a spiritual place can thus aspire to a LEED Platinum rating."
Simplicity was achieved by limiting the meeting-house palette to just two elemental and simple materials, wood and plaster. The architects report that wood in old Quaker meeting houses is often placed where hands can rub against it for centuries and still look great, so lining the lower walls and floor with wood was very much in keeping with tradition. All of the space's advanced mechanical and audio-visual systems are well concealed by the space's simple design elements.