The RAV4 EV, coming shortly to California for a smackdown with the Honda Fit EV, is hogging the Toyota green-car headlines, as it should. Big stuff. But let's not forget about its roomier crossover cousin, the Highlander Hybrid.
The automaker recently rolled out the particulars for the 2013 model and there are upgrades. The one Toyota thinks you should be most tickled by: "the Highlander Hybrid now includes as standard Display Audio with Navigation and the Entune multimedia package."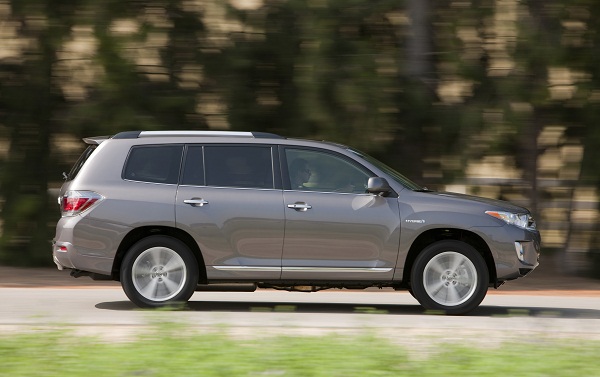 What this means, Toyota says, is that in addition to the steering wheel allowing you to adjust the direction in which the vehicle travels – apparently the remain's the device's primary function – the wheel also gives you "controls for the audio, Multi-Information Display and Bluetooth hands-free capability."
With Entune you can think about a seemingly endless range of things other than the road in front of you. Not only does it offer mobile apps such as Bing, iHeartRadio, MovieTickets.com, OpenTable and Pandora, "Entune data services include a fuel price guide, sports scores, stocks, traffic and weather," Toyota says.
You might never want to leave the car, which gets 28 mpg, city or highway, it doesn't matter. That beats the pants off the standard model's 17/22 mileage. You'll know you're in a hybrid by the fact that a tank of gas takes you 433 miles vs. 328 in the non-Hybrid (according to EPA data). But to make sure others know you're in a hybrid, Toyota gives the vehicle a different outward appearance: "The 2013 Highlander Hybrid is distinguished from the gasoline model by its own unique grille and bumper design, color-keyed rockers with chrome accents, plus vertically stacked fog lamps. The projector-beam headlights and taillights feature blue lens covers."
Remarkably, although the Toyota press release about the 2013 Highlanders is longer than an NBA center's arm, it didn't give prices. MotorTrend, however, says the MSRP for the base model is $39,970, ranging up to $46,170 for the Limited Sport Utility.