The London Olympics this year did a fine job of helping to develop best green practices for global events. One of the most notable strategies planners there employed to cut the carbon footprint of the Games was to make the only permanent buildings those with long-term potential to benefit the city as a whole (and to make all others temporary, and recyclable). We see similar long-range vision behind the recent selection of Almere's Cité Idéale proposal for the next Floriade horticultural festival in the Netherlands.
The Floriade World Horticultural Expo only occurs once every ten years, giving cities plenty of time to prepare. And even as the 2012 expo has been in full swing this summer (and will remain open until October 11), the proposals for the next city to host the event in 2022 have been under consideration since this spring. Almere's City Ideale proposal distinguished itself from the competition via the fact that it's not a design for a temporary exhibit site, but rather, a permanent, sustainable city. Designed by the firm of  MVRDV, it will serve as an ecologically oriented extension of Almere's city center, in line with Almere's 2030 Master Plan.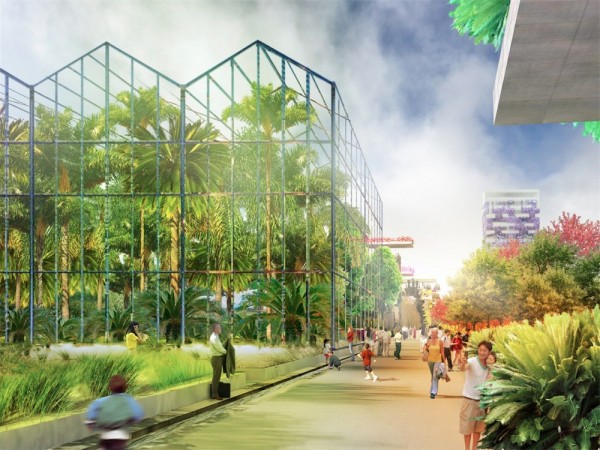 Make no mistake, Floriade 2022 will be uber-green — 300 percent greener, in fact, than current exhibition standards.
The Cité Idéale will function, first and foremost, as the venue for the world horticulture exhibition, with a tapestry of gardens spread across a 45 hectare square peninsula. Each of its blocks will be devoted to different plants arranged in a "plant library," with dedicated spaces for exhibition pavilions, homes, offices and even a university. This university building will be organized as a stacked botanical garden/vertical eco-system offering each classroom a different microclimate in which to grow certain plants — not unlike a terrace farming scheme, but  with a fraction of the physical footprint.
The design for the exhibition center foregrounds plants in imaginative ways. Visitors to this once-in-a-decade, global horticultural showcase will have the opportunity to stay in a hotel twining with jasmine, swim in a lily pond and dine in a rose garden.
When the expo concludes, the Cité Idéale will offer homes situated in orchards, offices with interiors oriented around plants (perhaps even live trees?) and parks teeming with bamboo.