Apple products might represent the cutting edge of mobile technology, but that doesn't mean they're the opposite of everything that's natural and organic. Sometimes the minimalist aesthetic of Apple iPads and other products melds well with a raw, unpolished look. Nothing demonstrates this serendipitous dichotomy better than the innovative line of docking stations produced by RockAppleWood.
This California-based Etsy artisan specializes in turning unwanted pieces of wood into handcrafted docking stations and speaker systems for iPhones and iPads. All of the wood used to make these unique pieces comes from reclaimed, fallen, and re-purposed wood from the Murphys, California area — a small town about an hour east of Stockton.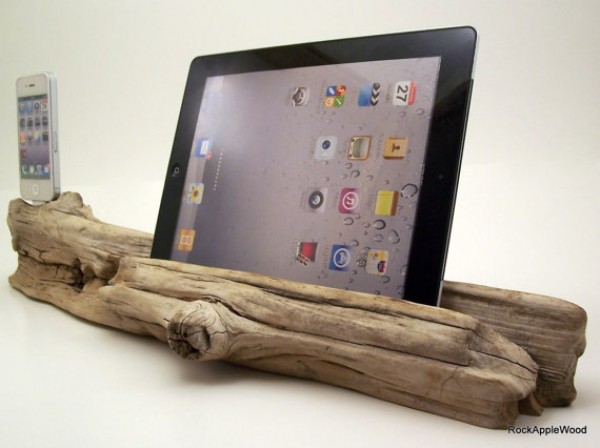 "We believe in natural selection when it comes to harvesting our wood," RAW says on its site. "We let nature determine what wood we work with and when." That means the wood for one docking station might be picked up in the woods after a heavy rain, while another might be scavenged off of the beach during low tide. Ever present in RAW's mind is the desire to preserve the wood's character while also producing a high quality product.
Image via RockAppleWood/Etsy
"For this new collection, we have tried very hard not to alter the shapes of wood that are collected and turned into docks. We truly believe that these pieces belong as they are found. We do sandblast every piece and soak and rinse in a Sodium Chloride solution to kill microbes." Thank goodness, the last thing you want is a huge spider crawling out of your docking station the next time you crank up some tunes.
Depending on the level of craftsmanship involved, RockAppleWood products start as low as $50 and move upwards to over $700. Check out the Etsy store, where you can read the story behind the wood that lends itself to each docking station or speaker.