For over 20 years, free spirits have gathered annually in Nevada's Black Rock Desert for a solid week of celebration, music and self-expression known as Burning Man. This festival is much more than a music festival, as self-reliance, community, and the making of stunning (sometimes strange) works of art is a 24 hour a day mission for those that participate.
One of Burning Man's main principals is to "leave no trace." This means the tens of thousands of attendees must all be vigilant to conserve resources, care for the land, and recycle each and every bit of waste they possibly can. This year Joseph Lombardi, a student at Kettering University in Flint, Mich., has transformed Burning Man's "Recycling Camp" into a three-tiered pyramid recycling system that most municipal waste programs would envy.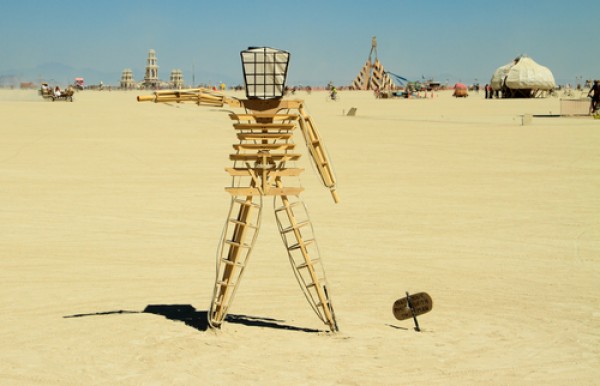 The intricate, eccentric world of Black Rock City relies on the work of passionate volunteers to help Burning Man live up to the hype, and its own strict tenants of inclusion and sustainability. Lombardi initially attended the festival as an artist's assistant, later volunteering for recycling efforts. When he started, the Recycling Camp collected only aluminum, with crushed cans being sold and the proceeds going directly to the Gerlach, Nevada, schools.
Lombardi thought the entire community could do better. Using his engineering expertise, he designed a multi-tiered system where the motto is "Recycle Everything." "We collect firewood, scraps of steel, aluminum, plastics #1-5, cardboard, paper, glass, compost and landfill. We'll collect pretty much anything if we can find somewhere to recycle it," said Lombardi of the effort. First, volunteers collect and sort waste by type into a series of dumpsters at the Transfer Station. Then, pre-sorted recycling from some of the larger camps is collected or delivered, and added to the stash. The final tier is when Recycle Camp takes the waste to recycling centers near the Burning Man site at the end of the week.
"I think the coolest thing about the recycling system here (at Burning Man) is how flexible and adaptive it is.  If we have to rearrange collection points or add new streams, we can do it on the fly right there in the field," said Lombardi.