Ever feel like you're the only one in your neighborhood making a conscious effort to drive less? If you've ever watched your neighbors rev up their engines and air conditioning, while strapping on your helmet and bike light, you may second guessed your actions, just for a moment. In an effort to help bike commuters feel proud about their commitment, and also to learn more about how many people actually travel on two wheels instead of four, the City of Portland recently flipped the switch on America's first bike counter.
The counter, also known as a "bike barometer," went live for the first time at midnight on August 7th. The European style bike counter was purchased through a generous donation from Cycle Oregon and placed on the old Hawthorne Bridge as part of the company's 25th anniversary.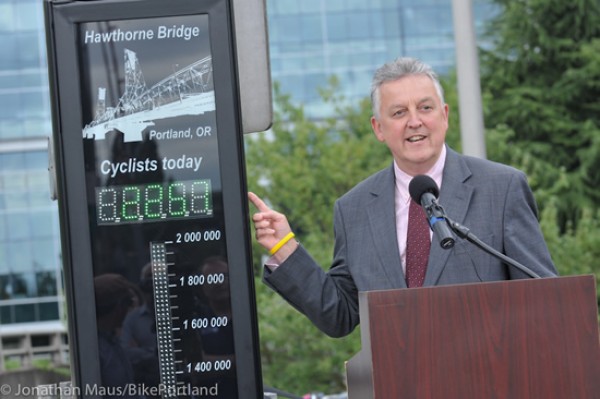 The Portland bike counter works very similarly to those you may have seen on highways and other busy roads, counting cars. "The counter works via four sets of air hoses strung across the Hawthorne Bridge path," Jonathan Maus reports for Bike Portland. "…when someone on a bicycle rolls over the hoses, their weight depresses the hose, which creates a pulse that is converted into a radio signal that beams wirelessly to the counter."
According to Cycle Oregon co-founder (and VP of Communications for ODS Health) Jonathan Nicholas, the bike counter isn't just about getting more people on bikes. It's a crucial part of Portland's job creation strategy.
"It's no secret that health care costs are threatening to cripple our urban economy and they're really inhibiting job creation," said Nicholas at a press conference. "We have to find a way for urban dwellers to live more active lifestyles and therefore be healthier. One key part of that is making it easier and safer for people to walk and cycle around our city and one key to making those sort of investments is having accurate, real-time data on which you can base those investments. This counter is all about that."