I don't ever plan on going to prison, but sometimes wonder how I might fare if such a fate ever did befall me. If you've ever watched an episode of "Locked Up Abroad" you know that as terrible as American prisons are, they're nothing compared with penitentiaries overseas. If I ever found myself looking through the bars of a prison cell, it would be impossible not to imagine escaping through any means necessary.
A brilliant idea being trialed in the Brazilian prison system helps inmates put that nervous energy to good use. Prisoners at a maximum security prison near Santa Rita do Sapucai in the mountains north of São Paolo have been given an option to reduce their sentences by pedaling bicycles that generate electricity.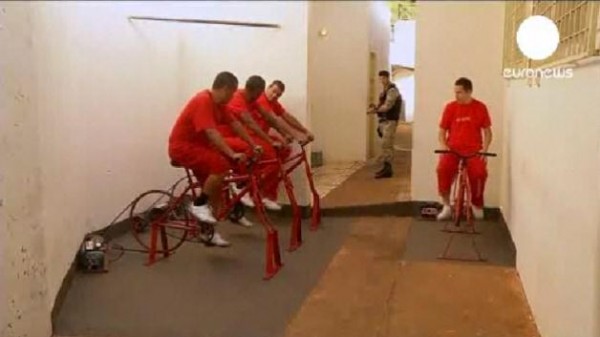 According to Euro News, the cycling scheme was the idea of a local judge, and local businesses and police helped make it work. "With our project, the idea is that they can now exercise, lose weight and at the same time it also benefits them because after every three days of work, their sentence shortens by one day," said Prison Director Gilson Rafael Silva.
Throughout the day, power generated by the pedaling prisoners is store in a battery. Each night the charged battery is used to light up the riverside promenade at Santa Rita do Sapucai, and area that was often abandoned after dark, but has now come back to life.
Although there's nothing relaxing about pedaling stationary bicycles under the watchful eye of an armed guard, I can see why prisoners are happy to participate. If you're looking down the barrel of a five or 10 year sentence, this useful physical activity is probably a welcome way to break up the monotony, and you get the enjoyment of knowing that you're chipping away at the length of time between you and a real bike. Watch a video about the unique program here.