Happen to be visiting the Museum of Modern Art PS1 (MoMA PS1) in New York this summer? Be sure to stop by and see Wendy. Wendy (which comes to us via Architizer) is the spiky, bright-blue pavilion designed by the architects at HWKN that has taken up residence in MoMA PS1's outdoor gallery. This unique art installation is not only helping visitors to beat the heat this summer, it's helping to clean the air using nanotechnology.
Wendy was HWKN's entry into MoMA's annual competition that seeks to highlight the work of an up-and-coming architecture studio. Each year the competition challenges its winners to develop a creative design for a temporary, outdoor installation at MoMA PS1 that provides shade, seating, and water. Guidelines also dictate that the installation address environmental issues, including sustainability and recycling. HWKN designed Wendy for MoMA PS1's Warm Up summer music series, which takes place outdoors, in its courtyard.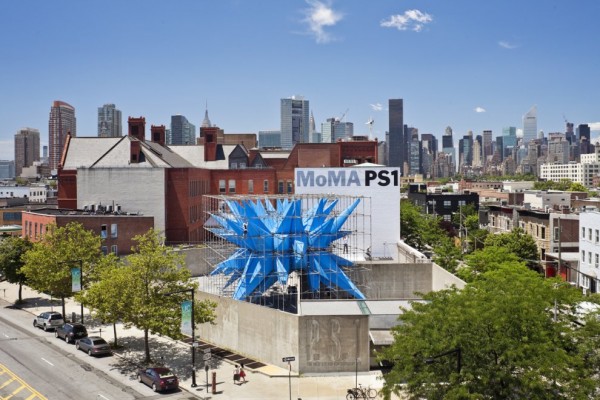 Composed of nylon fabric treated with a titania nanoparticle spray to neutralize airborne particles, Wendy is expected to remove enough pollutants from New York's air to achieve the equivalent of taking 260 cars off the road. But Wendy also has a whimsical side: her spiky arms reach out to deliver blasts of cool air, music, water canons and mists to create social zones throughout the courtyard.
This interactive pavilion features a simple, inexpensive construction system: the scaffold is deployed efficiently to create a 70 foot by 70 foot  by 45 foot volume to form the largest surface area possible. Which is to say, that spiky crystalline shape looks cool, but it also serves to maximize the points of contact between the installation's nano tech mesh and the surrounding air.
According to MoMA PS1, Wendy sits far enough away from the stage used for the annual Warm Up events to let the concerts go on unimpeded, but close enough to the entrance to create a filter and an initial impact on visitors. It bridges over the walls into the large and small courtyards of the museum.