Editor's Note: EarthTechling is proud to repost this article courtesy of Alliance to Save Energy. Author credit goes to Miriam Berg and Lizzie Horne.
London's bid for the 2012 Olympic Games came with a hefty vow: to host the greenest Olympics in the tournament's recent history. That vow is being kept through a variety of energy-efficient features at this year's summer games.
Although London's commitment to sustainability was questioned after it ditched plans for a wind turbine and other eco-friendly facets, organizers assure Olympic-goers that the 2012 games will be a green experience like no other. With Olympic Park's many energy-saving products and practices, the area's permanent structures emit 58% fewer carbon emissions than if they had been built to the U.K.'s 2006 building standards.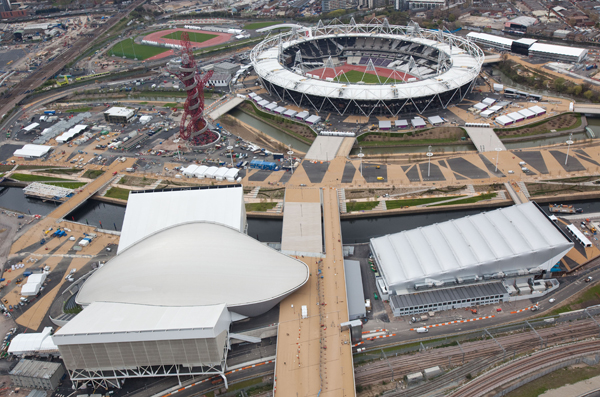 Velodrome: Most Energy-Efficient Venue in Olympic Park
Olympic Park – a 620-acre space filled with shops, restaurants, bars, and arenas for competition – is the centerpiece for the games, as well as London's sustainability efforts.
Organizers boast that the park's 80,000-capacity Olympic Stadium was constructed with less new material than any other Olympic stadium by using unwanted pipelines, recycled granite and other reusable materials.
But the most energy-efficient venue within Olympic Park is the velodrome, an arena with banked tracks for bicycle racing that can hold 6,000 spectators. The velodrome isover 30% more energy-efficient than similar buildings constructed to current regulations, according to an Olympic Delivery Authority report [PDF].
The velodrome's energy-efficient features include:
A lean building shape and curved roof that rises toward the ends, which allows heat to escape upward and adds extra seats.
Windows that illuminate the track with daylight and minimize need for electric light.
A 100% natural ventilation system that eliminates the need for air conditioning.
A "smart" building management system that controls the venue's many mechanical, electric and plumbing systems for optimal energy efficiency and water efficiency.
Special insulation in the building exterior that will keep heat in during the winter.
Public Transportation and Electric Cars
London's public transportation will be in high gear during the games: More trains, trams and buses will be running, and visitors will be encouraged to ride "the Tube" with reusable plastic cards. Visitors also can use the Barclay's Cycle Hire system, a self-service bike rental program with stations all around the city.
Although the games' fleet of 4,000 BMWs to ferry around VIPs has been criticized, 200 of the cars are electric and set to bring worldwide attention to zero-emission cars.
After the Olympics
Sustainability won't stop once the games end in August. The velodrome and a separate aquatics center will be "recycled" as facilities for the local community.
Meanwhile, the Olympic basketball tournament is being played in a mobile building assembled on-site that will be removed once the games are over. Organizers are hoping this system will usher in an era in which even more arenas can be dismantled and reused.
London also plans to transform the Olympic Park land into one of the largest parks in Europe with at least 100 acres of natural habitat. In addition to 300,000 plants in the wetlands area, the park will have more than 100,000 plants lining its walkways.