In Oregon, Portland Community College (PCC)  joins the honor roll of green schools with the Newberg Center, the first higher education building in the state to hit the net zero mark.
As part of a state bond measure in recent years to expand classroom space, PCC purchased a 15-acre site in Newberg, a small town west of Portland, to develop its new campus. The 13,500-square-foot PCC Newberg Center is the first building to be completed on that campus, and was designed by Portland-based Hennebery Eddy Architects to create a "welcoming sense of place." This energy-efficient facility brings classroom, office and common spaces — not to mention a 109 kilowatt-capacity rooftop solar system — to the new campus.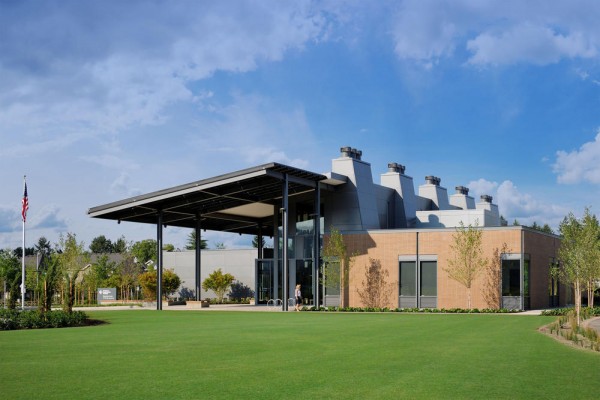 Inhabitat reports that the new building was designed to meet the new sustainability goals of PCC, serving as a testing ground for new technologies, sustainable strategies and energy-efficient design. Toward that end, it incorporates passive solar design, a tight, efficient building envelope, low-flow water fixtures, and landscaping composed of native, drought-tolerant plants. It was designed to meet the standards for LEED Platinum certification, and includes a computer lab, an administration suite, service core, an open commons, and four general purpose classrooms.
The Newberg Center's roof extends to the south to create a large, shaded plaza that also works to protects the building from overheating (a key factor in a building oriented around the east-west axis for abundant natural daylighting). The roof-mounted solar power system provides all of the building's power, year round, while Structural Insulated Panels help to minimize energy losses with their formidable thermal mass, helping to  maintain comfortable inside temperatures.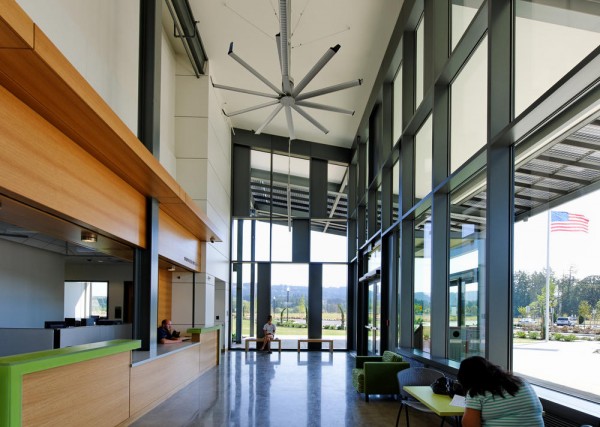 Organized around a central circulation "spine," the building makes use of  ventilation stacks and Big Ass Fans to move hot air up and out of the building. It includes three classrooms and an administrative suite flank the north side, as well as multi-purpose rooms to the south that can shift and rotate to create a dynamic central commons for student, teacher, and community interaction.
Since its completion in August of 2011, the Newberg Center has received widespread recognition, including a American Institute of Architects Committe on the Environment Top Ten Green Projects award for 2012.