The car2go car sharing service from Daimler is currently present in five markets in the United States and gaining in popularity, especially in Portland, Oregon. It is in this city that registrations from new participants have soared, and to which an electric vehicle option is being added.
car2go said that the first 100 days of its car sharing in Oregon's largest city have generated more than 6,000 new members who collectively have made use of the service more than 4,500 times. Drivers have been sticking mostly to the short mileage design, averaging between three and six miles on trips that typically last between 30 and 45 minutes.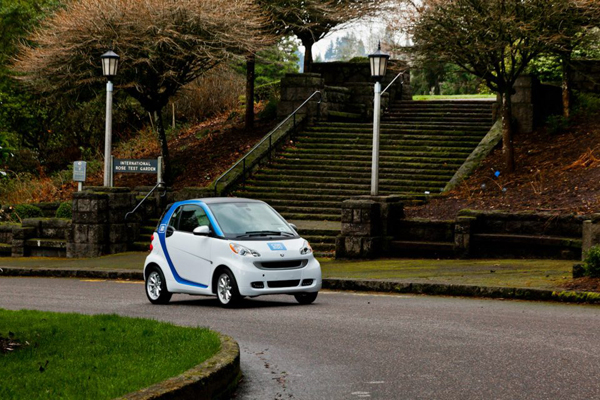 Now that the service is established in Portland, car2go is bring some of its electric smart fortwo vehicles in to supplement the 250 regular smart fortwo cars already in use. This isn't the first time the electric smart cars have been made use of in the United States, as we've seen them already rolled out in places like San Diego.
The electric smart cars for the car2go service are also in use overseas in places like Amsterdam.
The 30 smart fortwo electric cars should offer drivers a range of somewhere between 80 and 100 miles on a full charge on city streets, depending upon driving conditions. car2go says its vehicles can be found scattered all over the city, but what's not clear is where drivers will be able to pick up and drop off the EV options, given that it might be limited somewhat to where electric charging infrastructure is already in place.
"Adding electric vehicles is the next step in an already successful carsharing collaboration between the city and car2go," said Portland mayor Sam Adams in a statement. "Emissions-free carsharing is a natural progression for this city's overall clean transportation plan and our healthy and sustainable future."
One thing in terms of availability which will be nice for Portlanders is an expanded service area for the car2go program. Plans call for the Home Area – where members can start and end their rentals – to now encompass 37 square miles of the city.