The Alec Baldwin East Hampton wind turbine story might just be the best thing ever to happen to distributed wind power. Mike Bergey and the nearly three-dozen people who work at Bergey Windpower in Norman, Okla., can hope.
"It would be nice if this led to more people learning about what distributed wind power really is, and getting more of a fact-based understanding of our technology and our industry," Bergey, the president of Bergey Windpower, said in a telephone interview this week.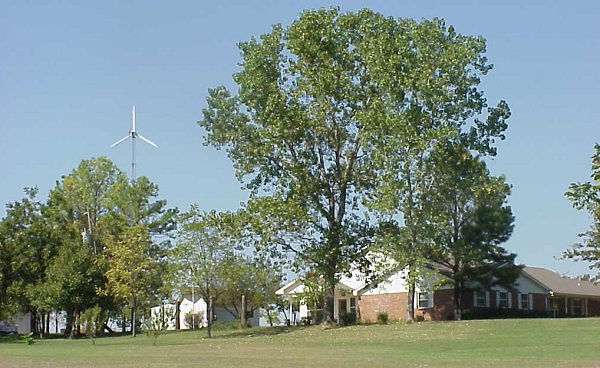 This mechanical engineer from Oklahoma is linked to the Baldwin story because it's a Bergey Windpower Excel 10kW turbine that the 30 Rock star is seeking to erect on his eight-acre property. This came out when Bergey posted a comment Wednesday on the Wall Street Journal website in response to an article about Baldwin's struggle to overcome rules and regulations that apparently make putting up a 120-foot-tall home wind turbine quite the bureaucratic challenge out on Long Island.
At last count the story had drawn 80 comments, many attacking Baldwin for being a rich guy who might take advantage of renewable energy incentives. Quite a few knocked renewable energy in general. Nearly all the commenters seemed to assume that a turbine like Baldwin's would wreak havoc on the peace and tranquility of his neighborhood, if not all of East Hampton.
"Everybody is acting as though this is a monstrous machine," Bergey said. "There's a hysteria about wind power that has become pervasive, but the truth is our turbines will not drive everyone within several miles insane."
So there's the first point Bergey hopes people will get when it comes to small wind: it's not big.
Baldwin's hoped-for turbine has a rotor diameter of 23 feet, while a standard turbine at a big wind farm – the GE 1.6-82.5, for instance – has a rotor diameter of around 270 feet.
"It's like night and day," said Bergey, who wrote in his Journal comment that the noise from a 10-kilowatt turbine is about akin to that from an air conditioner.
There are a couple of things small wind turbines do have in common with big wind turbines, however.
First, they fare best – and really only makes sense – if they are placed well above ground. At 120 feet high, Baldwin is in the 80 to 140-foot range that Bergey recommends for a 10 kW turbine.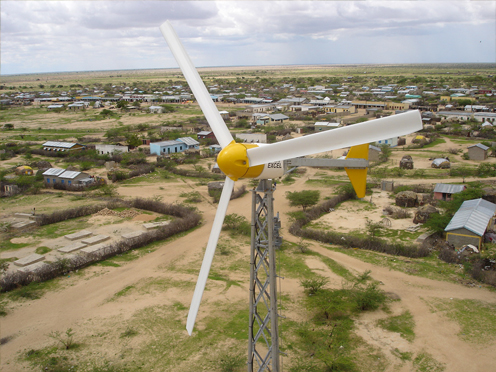 According to the Distributed Wind Energy Association, for which Bergey is acting president, "a 5 kW residential wind turbine on a 35-foot tower in an open area might produce 1,200 kilowatt-hours annually in a moderate wind regime, but the same turbine on a 115-foot tower would generate 9,000 kWh per year."
Second, and related to that point: Forget about those funky vertical-axis wind turbines — the ones that go on a little pole in your backyard or just above your roof — that we're always writing about on EarthTechling. "There are a lot of bozos and shysters out there pushing those things," Bergey said. "You guys give way too much credence to them. If you look at the science behind most of those systems, you'll see they aren't going to deliver anywhere near what they promise, and yet most people in the public have no ability to make that kind of assessment."
That's why Bergey and what he calls legitimate small-wind companies have gotten behind the Small Wind Certification Council. It's a program funded by the U.S. Department of Energy and the New York State Energy Research and Development Authority to lab-test and certify the power production claims and other aspects of small wind turbines. So far, two turbines – including the Bergey model that Baldwin is eyeing – have gained full certification, while several others have earned conditional temporary certification and a couple dozen more are undergoing testing.
The program is new but a number of states – including California, Wisconsin, Oregon and New York – either already require or are moving toward requiring certification in order to qualify for renewable energy incentives, so it figures to grow.
Certified turbines get a product label that gives a figure for annual kilowatt-hours of power production, a rated sound level and a rated power output. For instance, the Baldwin turbine, assuming an annual average wind speed of 11.2 mph, is certified to produce 13,800 kWh per year and spin at 42.9 dB(A) with an output of 8.9 kW.
According to the Journal article, Baldwin's turbine "is expected to cost $97,050, but that price will be offset by an anticipated $38,185 rebate from LIPA (his power company) and a $17,660 federal tax credit."
"He's in a good wind area, he's got space, power is relatively expensive and he's got some good incentives – those are the factors that can make distributed wind a great choice," Bergey said. New York, in fact, is a prime market for Bergey Windpower, though mostly Upstate New York, not the tony Hamptons. California, where power is also expensive, is a good market as well.
Bergey said the number of turbines his company sells annually is "in the hundreds, not the thousands." The company was founded by Mike and his father, Karl, an aeronautics engineer, in the late 1970s, after President Jimmy Carter responded to the era's energy challenges with incentives for clean-power development. After those incentives disappeared under President Ronald Reagan in the '80s and the price of oil plummeted, the company fought through some lean years by targeting international rural electrification and water supply projects.
Today, in addition to selling turbines to homes, farms and businesses, Bergey markets its turbines to the telecommunications industry, providing off-grid power for things like cellular base stations.
Small-wind technology has progressed since the company released its first product in 1980, Bergey said, but he admits there is room for improvement. Big wind turbines often operate at a capacity factor of 30 percent or higher; Baldwin's turbine is likely to come in around half that figure. "We're behind big wind," Bergey said, with small-turbine technology having advanced just a couple of iterations from its early days while the more mature big-wind technology has pushed forward eight or nine times. A little more help on the R&D front — some of that government solar money, say — would be appreciated, he said.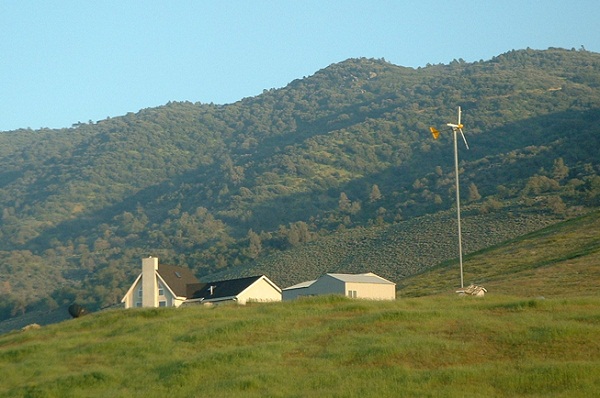 "There's around $250 million in DOE money going toward solar innovation," Bergey said, citing programs like the SunShot Initiative, "and maybe $1 million on small wind, even though 80 percent of the small-wind turbines are made in America."
Bergey said his company's turbines are all manufactured in Norman, using products that come from around 200 suppliers in the United States – everything that goes into the turbine is domestic, he said, except the permanent magnet, which he said you basically can't get anywhere but China.
Bergey offered no apologies for believing the small-wind industry deserves a little support from government. "We're talking peanuts compared to what the fossil fuel industries get," he said. Ticking off tax breaks like the oil and gas depletion allowance and intangible drilling costs, he said that Bergey Windpower pays double or triple the tax rate that oil and gas companies do. So while Alec Baldwin might get a tax break on his turbine, his turbine purchase will still kick some money back to the U.S. Treasury.