Recently we brought you word that the rigorous Living Building Challenge green building standard took top honors in the annual Buckminster Fuller Challenge, in recognition of its potential to affect what amounts to a paradigm shift in how we think about and construct buildings. If you're wondering what that paradigm shift might look like, look no further than the new VanDusen Botanical Garden Visitor Centre in Vancouver, Canada (which comes to us via ArchDaily).
Designed by the green design veterans at Perkins + Will, this structure integrates undulating interior and exterior spaces into its surrounding environment, rising from the ground level to the roof in a series of green roof "petals" inspired by a native orchid. Unlike most roofs in this temperate rainforest region — which must occasionally be cleaned of moss and other plant life to fulfill their intended function — these roofs were designed to encourage plant growth, with the roof and ground plane connected by ramps that serve to make the entire structure approachable on the human scale.
The visitor's center  makes use of a system of geothermal boreholes/wells, solar power and solar hot water tubes to produce as much energy as it consumes on an annual basis — a key provision of the standard set by the Living Building Challenge. The other provision that helps to set this standard on a different level than, say, LEED certification, is the fact that it requires buildings to treat all of their own wastewater on site. In this case, that's achieved via an on-site bioreactor, which effectively treats the building's backwater and releases it back into the surrounding landscape via a percolation field and garden. The building also collects rainwater for use in non-potable applications, helping to reduce the building's utility water needs.
Perhaps the most eye-catching feature of the building is its centrally located oculus, which lights up at night, spreading a warm glow over the surrounding landscape. This feature is not just for show, though — it assists with natural ventilation in the building, essentially functioning as a solar chimney. It also makes use of an aluminum heat sink, transforming sunlight into convection energy, which in turn gets the air moving throughout the building.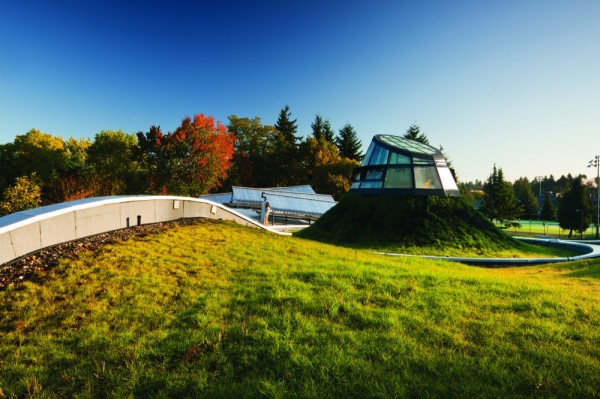 The building is primarily constructed of wood, with glulam post-and-beam construction. It functions as a community center for the VanDusen Botanical Garden, encompassing a cafe, library, volunteer facilities, garden shop, offices, and classroom space for meetings, workshops, lectures and private functions.