Every year, the the Buckminster Fuller Challenge awards a $100,000 prize to support the ongoing development and implementation of a strategy that has significant potential to solve humanity's most pressing issues. This year, that prize has gone to another challenge, the Living Building Challenge (LBC), which is widely believed to be the most rigorous green building standard in the world.
Called "Socially Responsible Design's Highest Award" by Metropolis Magazine, the annual international design competition presented by the Buckminster Fuller Institute was designed to attract bold, visionary, yet tangible initiatives focused on a well-defined need of critical importance, in the spirit of Bucky Fuller himself. (Fuller, while best known for his geodesic domes, developed forward-thinking designs for everything from transportation to housing.) The competition's jury members cited the LBC as setting the highest possible level of environmental performance and ecological responsibility for the built environment – not by "fighting the existing reality," as Fuller advised, but by "building a new model" in establishing a widely recognized standard for non-toxic, net-zero structures.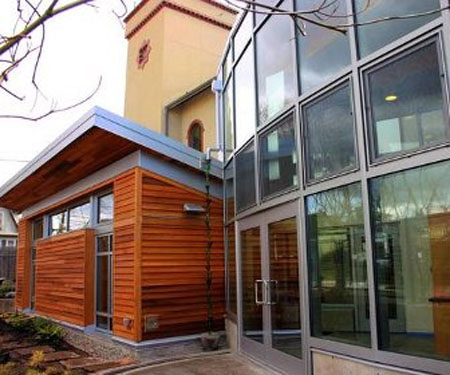 That new model — established by the Cascadia Green Building Council, the arm of the U.S. Green Building Council located in the Pacific Northwest — mandates that, in addition to the usual strategies employed in green buildings across the board (sustainable/locally sourced materials, indoor air quality, etc.), buildings must generate all of their own energy and treat all of their own wastewater on site.
ArchDaily states that, if widely adopted, the LBC's approach to green beuilding would significantly enhance the level of social collaboration throughout the design and building process and beyond, dramatically reducing the destructiveness of current construction while boosting the livability, health, and resilience of communities. The Omega Center for Sustainable Living in Rhinebeck, NY, the Tyson Living Learning Center in Eureka, MO, and Eco-Sense, a private residence in Victoria, BC, have all earned partial program certification through the program, with many more projects currently on track for certification.
The winning solutions in the Buckminster Fuller Challenger are required to be regionally specific yet globally applicable while presenting a truly comprehensive, anticipatory, integrated approach to solving the world's complex problems.