We've featured lots of interesting concept bicycles over the years, from those that fold to those that generate their own electrical power, but none has the striking look and simplicity of the SplinterBike.
As a joke, designer Michael Thompson bet a friend he could build anything out of wood, including a bike. Thompson made good on his claim, and the last summer the SplinterBike was viewed by over 320,000 visitors to the Power of Making exhibition at the Victoria & Albert Museum in London. It also set a new speed record for 100 percent wooden bikes in August 2011. Now, Thompson has constructed a special SplinterBike Quantum (SBQ) edition that will be available for public test drives during the 2012 London Olympic Games.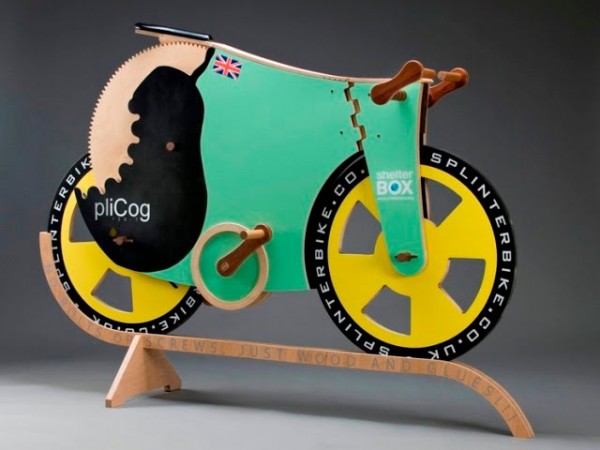 True to its claim, the SplinterBike is built entirely from wood (most of it reclaimed) and glue. There isn't a single bit of metal or rubber on the entire bike…even the tires! As you might imagine, there are some drawbacks to this design, namely a lot of weight. Unlike the super light racing bikes you're likely to see in the Tour de France, the SplinterBike weighs in at a whopping 71 pounds.
As this review points out, the bike used salvaged broom handles for pedals and handlebars. Its axles are made from decay-resistant Ekki, all of which has been reclaimed from bridges and wharfs in the Norfolk Broads river system. The cogs, wheels and frame are made from furniture-grade birch plywood.
All of that is wonderful if you're building a chair, but it doesn't explain how the SplinterBike actually moves without a chain or metal sprockets. "The drive is very simple," Thompson told Gizmag. "Instead of sprockets at the rear hub and the chain ring I have replaced them with plywood gears and instead of connecting them with a chain I have used a 700mm diameter, 128 tooth plywood gear, known as the pliCog. This 3 gear drive is replicated on each side of the bike. The whole thing runs like clockwork, literally."
The SBQ edition will feature a few important modifications so that crowds at the Olympics will be able to ride it safely, reports Gizmag. The wood tires will be coated with a special adhesive so they won't slip while turning. The handle bars have a more ergonomic shape and are adjustable, as is the wooden seat.