University of Maryland student Kyle Gluesenkamp only went about a foot off the ground but he's hoping that it will still be high enough to set a new world record for flying.
Gluesenkamp must wait for the National Aeronautic Association to adjudicate on his flight time of 50 seconds, an unofficial record for the duration of a human-powered helicopter flight. Here's the video:
The record validation process will likely take a few weeks.
The new flight best was set in Gamera II, a man-powered helicopter built by students in the university's A. James Clark School of Engineering.
The 50-second flight far exceeded the 2011 world record of 11.4 seconds, also set by the university in this craft's predecessor, Gamera I.
Both crafts were built to take part in the American Helicopter Society's Igor I. Sikorsky Human-Powered Helicopter Competition, which requires a human-powered helicopter to fly for 60 seconds, achieve an altitude of three meters at some point while it is airborne, and remain within a 10-square meter area.
Gluesenkamp set his unofficial record in a campus gym, the flash of cameras going off as he powered the pedals of the craft.
Gluesenkamp, a Ph.D. candidate in the Clark School's mechanical engineering department, was an alternate pilot for Gamera I last year. He joined by two other pilots (Colin Gore and Dennis Bodewits) during the Gamera II flight session.
"Over the last few days we have witnessed top Clark School student engineers flying an amazing craft they designed and built, resulting in an unofficial new world record of 50 seconds," Clark School Dean Darryll Pines said in a statement. "If you want to know where to find the future of engineering and great new technologies that will make our lives better, this is it."
Pines said the team, which did not manage to reach the three-meter height demanded by the AHS Sikorsky Prize, would continue to refine their craft and explore ways to achieve the altitude requirement.
If they need any inspiration there are one or two innovative designs out there for clean tech helicopters. Perhaps the most outlandish is the e-volo multicopter.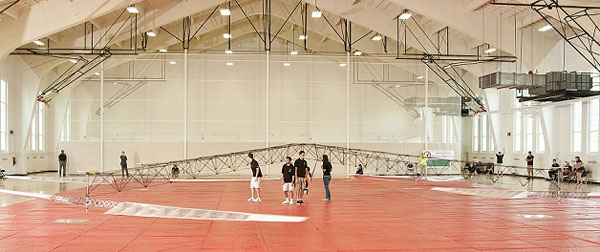 The multicopter is an electric, vertically starting, one-man craft that employs 16 propellers mounted on a rigid frame, allowing it to take off and land like a helicopter. The propellers create the full lift, and are also responsible for balancing the device on all three axes by independent speed control of the motors. Unlike the rotor of a helicopter, the propellers don't have any pitch control and therefore no wear.
A less ambitious option, but almost as much fun, is provided by the wooden helicopter toy crafted by Berty and Masha out of Switzerland and available on Etsy. The toy uses thin-film solar cells located on the helicopter's rotors to get off the ground.