Daimler has begun production of its smart brand fortwo electric drive vehicle for urban use, the company announced this week. The electric car will begin delivery in Germany in late summer, with an American debut currently set for this fall.
The smart fortwo electric drive vehicle has been on the Daimler books for a few years now. The vehicle is being produced at the smart plant in Hambach, France, which recently got $250 million facelift to upgrade the site for EV compatibility so the car could more easily roll off the facility's standardized production line.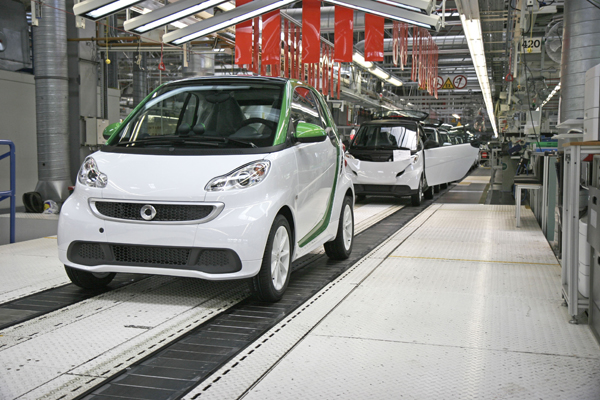 The smart EV, as we've reported in the past, sports a 55 kW electric motor that allows the vehicle to hit 37 MPH in 4.8 seconds. It has a top speed of just over 77 MPH, and with a range of just 90 miles or so, is destined for most to be an urban commuting vehicle at best.
The car is configured as a two-seater, equipped with a 17.6 kWh battery. A 22 kW on-board charger allows for this battery, when completely empty, to be fully charged in less than an hour. A power cable is needed for this, which is used to connect the vehicle to a public quick-charging station or a wall box at home or work.
The smart fortwo electric drive, ahead of its American debut later this year, already has seen some action here in the States. Daimler in early 2011 leased out a small number of these vehicles to interested drivers to help it test the car on local roads as well as build buzz.
While there's been no specific word on pricing or other specifications for the US version, the German edition has been set with a price of $29,600 for the coupe version and around $33,500 for a convertible offering. These prices include the battery – a lower cost option is also available that lets one rent the battery for a monthly amount.
The Canadian smart group has also posted their pricing, noting the smart fortwo electric drive coupe will start from $26,990 CAD, while the electric drive cabriolet will be priced from $29,990 CAD.
"The new smart electric drive and the expansion of the Hambach plant are two important milestones for the future of smart", said Dr. Annette Winkler, Head of smart, in a statement. "With the new smart electric drive we are further expanding our leading position in urban mobility and making fully electric driving accessible to everyone.