The What The Festival – that's WTF, if you didn't notice – in rural Oregon next month was already taking shape as a lot of things, with musical performances, an art show, hookah lounge, yoga deck and a giant splash pool all planned.
Now add clean-energy extravaganza to the mix.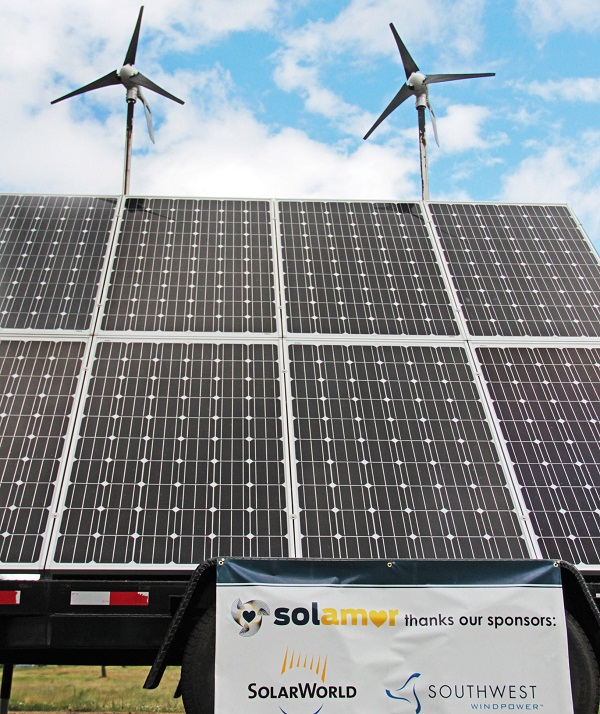 Solamor Event Services says that working with SolarWorld, the giant PV manufacturer based in suburban Portland, it will provide the festival "a generator fleet (that) features eight locally made SolarWorld solar panels, two Southwest Windpower wind turbines, an Outback Radian Series inverter and an onboard biofuel generator."
They call this cleantech marvel the WhisperWing — that's it pictured above — and, OMG, with it, WTF will be "completely clean-energy powered," Solamor says.
The Portland-based company says it's been performing similar services for cool events around the West for several years, popping up with its panels and turbines and such at gatherings like Burning Man and sporting events like the Portland Marathon to power itinerant proceedings in a green way.
Apparently, with SolarWorld's participation, they're taking it to a new level.
"Our partnership with SolarWorld will help us power big-name events almost entirely on clean, renewable energy," says Tatianna Pavich, co-founder of Solamor. "What the Festival, a weekend-long celebration of music and interactive art in a pristine, natural setting, is the perfect venue to employ alternative energy and other elements of sustainable event production."
The WhisperWing will bring a generating capacity of 30 kilowatts to WTF – and it should fare pretty well at its task. The site, White River Canyon, is on the dry side of the Cascade Range, practically guaranteeing tons of sun. Plus, the wind turbines and the biodiesel will chip in.
All kinds of hip bands are said to be slated for the event. Your decidedly unhip author couldn't say which are the top draws, and therefore leaves it to you to scan the array of acts who will populate the festival's three stages.