The Nichon Power Station system for the Nissan Leaf is  a key aspect of the off-grid Future Japan house, but you don't have to be dependent on off-grid energy — or face regular power outages — to take advantage of this back up home power system. That's because the Power Station's battery system is capable of charging up during off-peak hours and supplying that energy to both the Nissan EV and the household itself when its needed, cutting costs in the process. As of this month, Nissan's Japanese customers will be able to avail themselves of this option.
According to Venture Beat, Nissan's Japanese customers can now purchase the Leaf-based EV Power Station by their partner, Nichon, alongside with any new Leaf (or, presumably, to accompany the Leaf they already own). This external battery system can not only bring your Nissan electric up to 80 percent charged in four hours (about twice as fast as the company's current home charging system), it  can supply 24 kilowatt hours of energy to your home, which should keep it running for about two days (depending on how hard you're hitting the hair-dryer).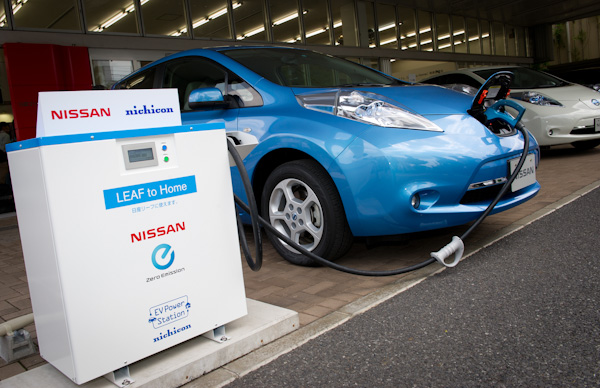 This should come as no surprise to those who've been following Transportation and electric vehicles on EarthTechling, as Nissan unveiled this tech at the Kan-kan-kyo house, which was built in front of the Nissan Global Headquarters in Yokohama by Sekisui House, as a way of demonstrating new technology. The Nichon Power Station for the Leaf was also showcased at Tokyo's Cutting Edge IT and Electronics Comprehensive Exhibition (CEATEC) as playing a part in a near future scenario which in which cities have transitioned to a low-carbon lifestyle.
All that, however, seemed very much in the spirit of Epcot Center's "World of Tomorrow" theme park (Look, Mom! A polyhedral home on stilts, powered by a car!). By rolling out this future-thinking tech commercially in Japan — a country still reeling in the wake of a natural disaster and its associated power outages — Nissan seems to be sending a clear signal that it believes the future is now. (Based on how quickly these zombie-proof nuclear-silos-turned-condos in Kansas recently sold out, we're inclined to agree.)
Nissan reports that the Leaf Home Power System can not only come to the rescue in the event of a blackout or other emergency, it can help you save cash on keeping your Leaf charged. That's because its lithium-ion batteries can draw electricity overnight, when utility prices are cheapest. Regardless of when you need to charge your car, you can use this system to take advantage of off-peak electricity prices, while contributing to smarter, more resilient grid distribution in the process. When the system is used to help power the home, those savings are then passed on to the home's utility bills.
This suitcase-sized unit is a two-way charger as well as an intelligent system capable of monitoring household's electricity consumption, then storing and releasing electricity at key times to reduce costs. By smoothing out the peaks and troughs of electricity consumption, the Leaf Home Power Station was designed to make home energy use both more efficient and economical.
The new Power Station will set Japanese customers back about 480,000 yen ($6,000) on top of the cost of the vehicle ($35,000). No word (sadly) on when this tech will become available in the U.S.