The average American home spends about 20 percent of its total energy consumption powering appliances and electronics. These devices are constantly plugged into the wall, which means that they're using small amounts of energy even when they're not turned on or in use. With the advent of huge, flat screen models, televisions are some of the worst offenders. In fact, some of the largest, high resolution, direct view TVs (versus rear projection products) can use as much electricity as a standard, new refrigerator — roughly 500 kilowatt-hours (kWh) — every year.
Of all the appliances we might remember to unplug when it's not in use, the television probably isn't one. It's just too hard to navigate that tangle of cords behind the entertainment center every time we want to watch our favorite program. Instead, we just try to purchase a TV that's more efficient both in and out of service. The government's Energy Star labeling system has become the most popular way for consumers to choose a television that consumes the least amount of energy, whether active or switched off. But as we've seen recently, even Energy Star standards can be misleading or recalled. That's why we were interested to learn that there will soon be a new electronics rating system on the block.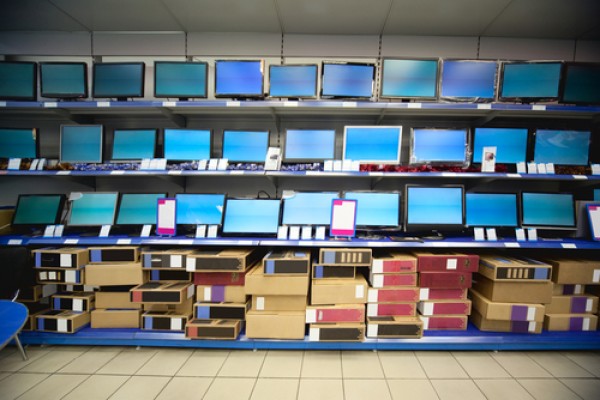 EPEAT (Electronic Product Environmental Assessment Tool) is a global registry for greener electronics. Its website, epeat.net, is an easy-to-use resource for purchasers, manufacturers, resellers and others wanting to find environmentally preferable products. As a 501(c)(4) "social benefit" nonprofit organization that's been around since 2001, EPEAT has worked closely with all stakeholders in the electronics industry, from manufacturers to purchasers, to develop an electronics environmental assessment tool through the consensus process.
The organization started out by drafting a "Voluntary Environmental Performance Criteria for Computers, Laptops and Monitors." Then, in 2005, the Green Electronics Council (GEC) won a competitive selection process to implement and manage the EPEAT system and received a grant from the U.S. EPA to fund that process. Fast-forward a few years, and 48 participating manufacturers currently register over 2800 'greener' PC and display products with EPEAT across 42 covered countries. Nearly 500 million EPEAT registered products have been purchased since the system began in July 2006, and purchase contracts requiring EPEAT exceed $65 billion.
Now, EPEAT is looking to expand its rating system to include power-hungry televisions. After three long years of drafts and discussions with stakeholders, the organization recently announced final drafts of IEEE 1680 standards that will form the basis of EPEAT Imaging Equipment and Television environmental ratings.
Now, you're probably wondering, "Why? Don't Energy Star ratings provide all the energy-saving criteria we need when shopping for electronics?" Good question. The truth is, there are very significant differences between EPEAT standards and the criteria through which products are evaluated for the Energy Star label. Although EPEAT doesn't currently provide evaluations for as many products as Energy Star, there are some compelling arguments about why it might give the government label a run for it's money.
The first major difference becomes obvious when you compare the audience for each service. Energy Star is focused on the end consumer while EPEAT is focused primarily on those who make or procure electronics for commerical reasons. (The registry database is open to the public, however).
Next, there are significant differences between the individual components that guide each standard's evaluation process. EnergyStar is concerned only with energy-efficiency, namely how much money a certified product will save the consumer, whereas EPEAT criteria reflect seve ral categories of environmental attributes that cover the full lifecycle of electronic products, including reduction/elimination of environmentally sensitive materials; design for end of life; product longevity/life extension; and packaging. Products are measured against both required and optional criteria. A product must meet all of the required criteria in its category to be added to the registry. It is then rated Bronze, Silver or Gold depending on how many of the optional criteria it meets.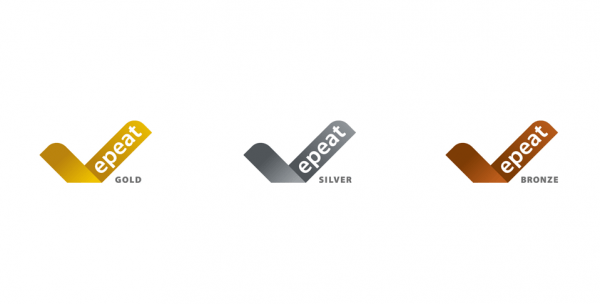 EPEAT also includes a variety of service-related criteria. These focus on the takeback and responsible recycling of products, packaging and batteries, as well as the provision of extended warranties and other support services that can significantly reduce environmental impact. Currently, Energy Star labeling contains no information about whether or not a product can be recycled and puts no pressure on manufactures to offer responsible take-back programs. Combined with a searchable product database, these rigorous requirements allow buyers bypass marketing hype and select products that will truly be cost-effective for their customers and businesses.
EPEAT registered product sales have already resulted in remarkable environmental benefits, including solid waste reductions equivalent to 58,000 US households' annual waste, and the elimination of enough mercury to make 1 million thermometers. The organization believes that implementing its newest standards will more than double EPEAT's market reach, and TV coverage will increase the system's potential for use in the consumer market.