There's a my-turbine-blade-is-bigger-than-your-turbine-blade battle going on in the wind power industry.
Siemens just showed off a 75-meter wind turbine blade, which doesn't quite measure up to the 80-meter model Vestas had announced earlier. But size isn't everything, right? Timing matters, too, and Siemens appears to be further along in getting its big blades actually spinning. So is Siemens the length leader?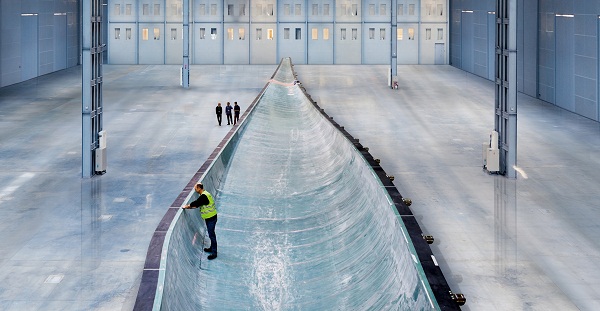 Not quite. The nod might go to Alstom and its 73.5-meter blade. It's not on the water yet – these turbines are all for offshore use, of course – but the company's 6-megawatt (MW) Haliade 150 is atop a tower, turning in the breeze in France in a yearlong land-based test.
Siemens, meanwhile, said it has built the first batch of its 75-meter-long B75 rotor blades, but they aren't in action yet. The plan is to install the blades on the second prototype of the company's 6-MW offshore wind turbine and put it up on land at Denmark's Østerild Test Station sometime in the second half of this year.
And what of the Vestas blade? The company "launched" the V164-7.0 MW in March 2011, but all that meant was that it told the world it had designed the turbine and intended to build it. It wasn't until last fall that Vestas found someone to take one of the turbines. Construction of a prototype is expected in the fourth quarter of this year for DONG Energy for installation at its demonstration site in the waters off Frederikshavn in 2013.
The point of this competition is to win market share, and the way to do that is by producing a turbine that can bring down the hefty cost of offshore wind farms, which can produce massive amounts of energy but are expensive to build. Becoming bigger isn't the only way to improve the cost equation, but it is an important aspect of wind tower evolution. Siemens noted that its first commercial wind turbine, some 30 years ago, had a capacity of 30 kilowatts and 5-meter-long rotor blades.