When it comes to green building, Las Vegas has not exactly been a hotbed of LEED-certified activity. But North Las Vegas gambled on a downtown revitalization project during the recession and is now on track to win LEED Gold certification for its new City Hall and Civic Plaza — a project that has already garnered glory by being named the 2012 Project of the Year by the American Public Works Association (APWA). The award was given in recognition of the project's outstanding construction management techniques and environmental sensitivity.
Designed by by Fentress Architects, the new North Las Vegas City Hall and Civic Plaza was created to house various municipal departments under one roof, increasing efficiency for both city staff and residents. The architects here takes their inspiration from traditional civic architecture, with a regional twist: classic rhythms and traditional materials meet a color palette in keeping with the natural desert environment, with sand-colored granite and sky-blue glass.  Outside, the building's shaded entry arcade and civic plaza serve as community gathering places, with spaces for stage performances and music festivals, as well as a fountain with interactive spray pads where families can chill out on hot summer days.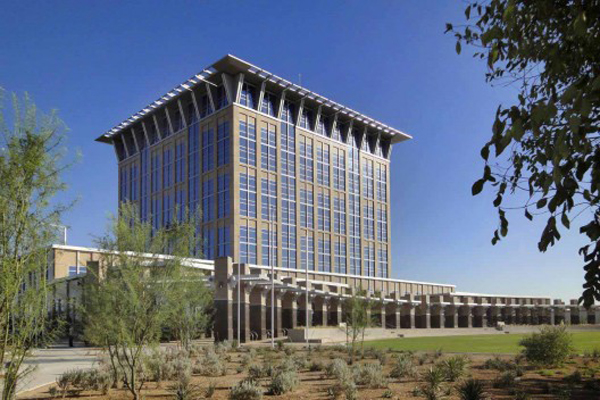 Sustainable strategies at work in the building include maximized water efficiency and the extensive use of natural daylighting; ultra high-efficiency glazing (a must for any efficient building in this climate); transparent shade cloths, and a smart lighting system that responds to the level of daylight available. A solar power system takes advantage of the area's abundant year-round sunshine, while controlled-supply and dual-flush fixtures help to make sparing use of the area's precious groundwater. The building was constructed using recycled and/or local materials.
The building encompasses 200,000 square feet over nine stories and was completed by The Whiting-Turner Contracting Company in 2011, $17 million under budget. With its distinctive cantilevered cornice and central, downtown location, ArchDaily reports that North Las Vegas's new City Hall serves as "a visual beacon and catalyst for downtown revitalization."