In the wake of the tsunami disaster that knocked out the Fukushima Daiichi nuclear complex — and the shut down of all of Japan's nuclear reactors — the Japanese government has set regional energy reduction targets designed to help the country meet its electricity demands with reduced generating capacity.  Kyocera Group reports that it is acting in support of that effort by planting "Green Curtains" at its company locations across Japan that will reduce its need for air-conditioning in the summer months, thereby reducing its buildings' energy demands.
These curtains of foliage, grown on trellises over the windows and outer walls of Kyocera's manufacturing and office buildings, will provide shade from the direct sunlight and heat gain that play a key role in driving up temperatures in those buildings when the mercury outside rises. The company's effort to install Green Curtains started last year, but has increased in 2012, with trellised plants being planted at 28 Kyocera company locations throughout Japan, more than a 30 percent increase over last year.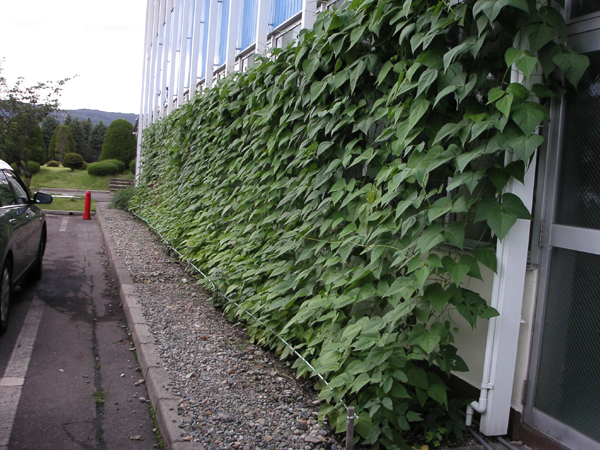 Green Curtains are part of the company's overall strategy to reduce the need for both air conditioning and electricity in general in its buildings. Other measures include setting the thermostat to 82 degrees Fahrenheit during summer work hours (and relaxing the dress code to allow employees to work comfortably in warmer temps); using a digital, programmable thermostat to automate ideal settings for different times of day; installing automatic door-closers throughout the workplace, including exterior and interior freight doors and walk-in refrigerators/freezers; and installing blinds and glazing on windows to control solar gain.
The company's other efficiency strategies include movement-activated lighting sensors for stairways, hallways and other areas that are not in constant use; energy efficient lighting (LEDs and CFLs); heightened power-saving settings for employee computers; and having employees use laptops rather than desktops whenever possible (as well as shut down and unplug all computers at the end of the work day).
More information on Kyocera's Green Curtains (as well as on how to create your own) is available online.