Amsterdam, a city that has been called the "Venice of the North," is home to numerous canals, 90 islands and 1,500 bridges.  One submission to the Amsterdam Iconic Pedestrian Bridge Competition (which closed in March of this year) imagined a unique addition to the city's many water-crossings: a hybrid bridge/hydroelectric power station.
The Turbine Bridge, designed by DWAWU wiercinski + wrzeszcz of Poland, was conceived of as a multifunctional space on the Amstel River. Designed in much the same way a ship's hull is designed to float on a channel, it contains not just a pedestrian and bicycle path, but a cafe, bicycle repair ship and administration offices. All of this is located on the main level — up top, the bridge was designed to accommodate "leisure terraces and playground spaces," and, down below, physical plant rooms, turbine engines and storage areas.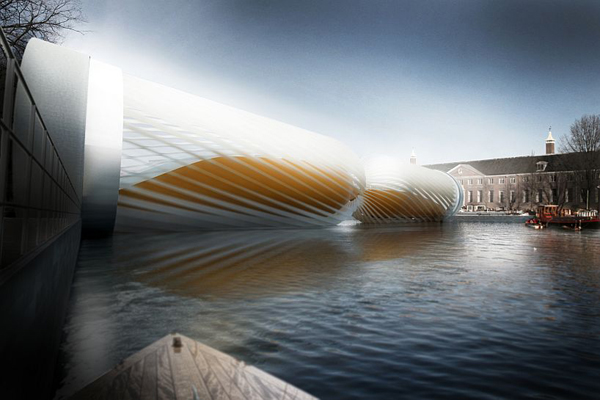 Around all of this, a turbine turns, powered by the river's current, generating electricity on site. This takes the entire structure off the grid while also generating juice for the surrounding community. The curved shape of the blades allow the water to flow back into the river after immersion with nary a splash.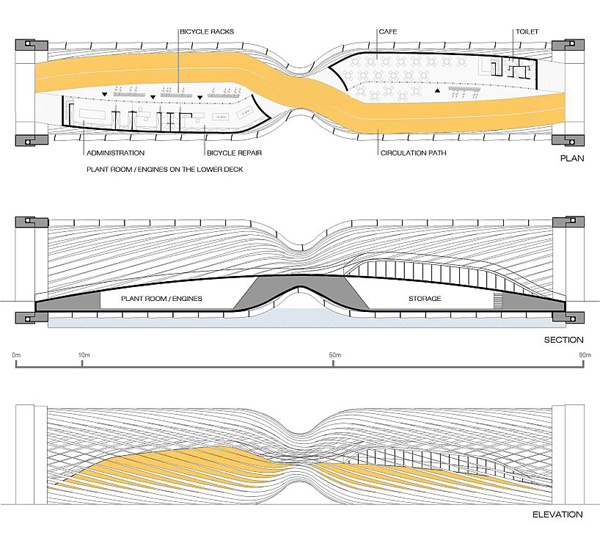 According to the project's designers, the Turbine Bridge's moving facade creates "a dynamic, living architecture" between the historic areas of the city — though one reader commenting on the project on Designboom has suggested that such a structure might re-create the infamous sea-sickness faced by pedestrians traipsing across London's Millennium Bridge when it opened. (Apparently, the "wobbliness" pedestrians experienced has since been addressed.)
Would the sight of turbines rotating around the bridge cause pedestrians — or diners at the bridge's cafe, perhaps — to feel a bit woozy? Until such a structure is built, it's hard to know — but still, this design seems a great idea for integrating renewable energy generation into urban infrastructure.