Do you long for the freedom to go anywhere without fear that your devices will be DOA? Is it your dream to plan trips without worry that you'll be caught in the backcountry with no backup power? If so, even the many wind and solar-powered chargers we've featured in the past won't cut it. Although these gadgets free you from the electrical outlet, their power generating abilities are still dependent on something you can't control.
With news that the nPowerPEG is finally hitting the market, however, all of that's about to change. First revealed as a prototype back in 2010, the compact device collects kinetic energy from normal human movements and stores it in a powerful battery. Now it's been perfected, and is ready to be put to the off-grid test–rain or shine.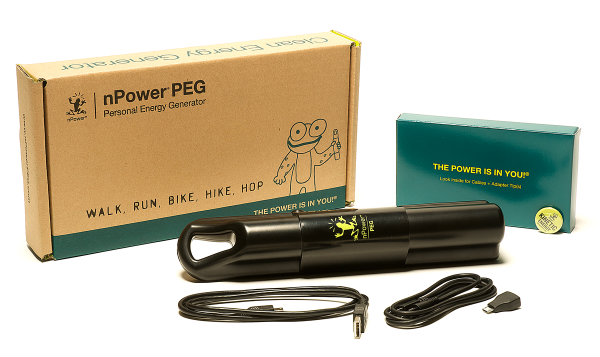 The nPowerPEG harvests the energy we generate naturally just by moving through out day. Walking, biking, running or hiking creates kinetic energy. Usually that energy is wasted, but with the PEG (Personal Energy Generator) you can capture and store it to later charge your personal electronics.
Placed vertically in your purse, backpack, or briefcase, the nPowerPEG reacts to the jostling of your natural motions, storing the energy in a compact, recyclable 2000mAh lithium polymer battery.  A high strength polycarbonate frame and titanium casing means the PEG can endure a beating and the new model even includes a hook so it can be hung from a backpack or belt loop.
Perhaps most importantly, however, the nPower PEG is compatible with over 3,000 hand-held electronic devices including cell phones, Mp3 players, gaming devices, GPS, and more. (Note: the key word here is "hand-held" as the PEG is not compatible with any laptops or netbooks). The PEG is a hybrid charger, so it can also be charged via a USB port on a computer or a USB wall charger.
Available from $169.99