Ever get that feeling? No matter how fast you scurry along you just aren't making any progress. Well, don't stress it because this new design for a rickshaw could be just the thing for you.
It may look quite a lot like a giant hamster wheel but since this one's attached to a bike you might actually find yourself going some place!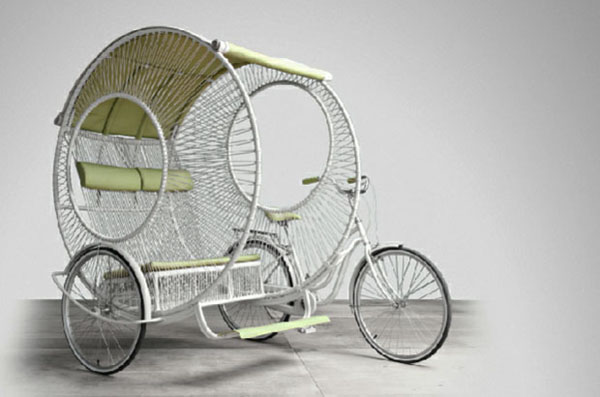 Actually, joking aside, this is a rather beautiful creation. Designed by Kenneth Cobonpue, it is made from aluminum and recyclable polyethylene woven together. The upholstery for the seating, handlebars and headrest is made from hand-stitched weather proof vinyl.
Before the three-wheeler, Victorian-era aesthetic starts to give you any ideas about dressing up in a top hat and pince nez, you should know that the bike features some very 21st century accessories.
There's a cup holder on either sides of the carriage and an iPod docking station, as well as a cooling fan along with a set of speakers. The carriage panels can also be closed on all sides if you need some 'me' time inside the cage.
Cycle rickshaws are a common site on the roads of India and other developing nations but in the west they have begun to catch on in recent years, often as something of a novelty item.
In major cities like New York and London cycle rickshaws take tourists on scenic tours of the main sites. On a summer's day the pathways of Central Park, for example, are teeming with them.
In the green energy world the rickshaw's status as a carbonless mode of transport has made it a useful vehicle (in all senses) for selling new environmental innovation.
Denver Zoo, for example, recently customized a motorized rickshaw imported from Thailand so that the three-wheeler now runs on elephant poop and human trash.
Believed to be the first hybrid-electric gasified rickshaw in the world, the vehicle is part of a large-scale project by the Denver Zoo to convert all of its animal waste and 90 per cent of its trash to energy.
India is perhaps the place where rickshaws are most ubiquitous; they can be found in virtually all the major cities and towns. In order to make the lives of the rickshaw riders easier a scheme has been setup to help motorize the rickshaw bikes with solar power.
According to India's Ministry of Science and Technology, the Soleckshaw makes use of a low power, high torque brushless DC motor developed specifically for the project. This motor turns rickshaw bikes into dual power hybrid e-bikes, allowing pedicab drivers to easily power up hills or merge into traffic.
As far as we know the design above is not motorized so you're going to have use good old-fashioned peddle-power to get this hamster to the top of the hill.