A modest funding of $500,000 is being made available by the U.S. Department of Energy (DOE) to test a wave power project for a year.
It recently announced, in a Funding Opportunity Announcement, that this money will be used in funding to deploy and test one wave energy device for one year to assess the technical readiness of at least one of the wave technologies that can harness energy from waves.  The test is to be held at the Department of Navy's newly created Wave Energy Test Site off of Marine Corps Base Hawaii in Kaneohe Bay, on the island of Oahu.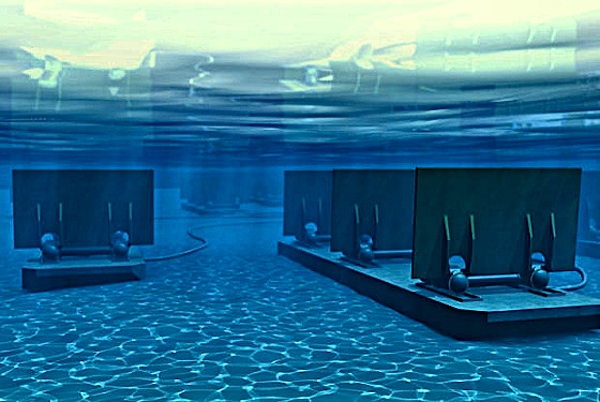 But it can take over $5 million dollars to test of some wave energy devices, AW-Energy's CEO told me a few years ago, although that testing cost alone could be substantially less for a device fairly far along in its development.
What makes a wave device expensive? Well, it's a huge, heavy-industrial machine that needs to be able to withstand the rigors of the marine environment, and yet because the wave energy industry is still very much at the pilot stage, it is also all new technology, requiring work from the ground up. This is part of what holds back the development of the wave energy industry, despite its huge promise.
That makes this funding level sad for those who haven't moved beyond conceptualizing their device. This would be a tenth (or less!) of what is needed to develop and test a device, if that comment was correct.
There have been some great moves recently to reduce these costs. We covered deployment this year of the Ocean Sentinel, a testing platform off the coast of Oregon that makes it possible to test wave devices without having to hook them up to the national grid to make testing more economical. It will be a game changer in providing the first test station on the U.S. mainland.
U.S.-based companies would probably be considered first for the funding, but companies like AW-Energy, which makes the WaveRoller, and their fellow Finnish company Wello might want to apply for the Hawaiian test anyway, since the DOE is looking for companies that have already got a track record of sorts in pre-pilot tests of their devices.
The huge potential of wave power is unrealized as yet. While the U.S. total electricity consumption is 4,000 terawatt hours of electricity annually, the DOE estimates that nearly half could in theory be supplied by wave energy alone, with over 1,170 terawatt hours a year available off our coasts. If even half that could realistically deployed, it would be capable of supplying 25 percent of our electricity.