It seems like just yesterday we brought you word that the world's cities are leading the charge on adapting to climate change. Actually, it was just yesterday, in a post about the Carbon Disclosure Project's new report, which reveals that 84 percent of a wide range of cities surveyed have taken action on this front, creating jobs in the process — but that this momentum is likely to be lost if cities continue to have to foot the bill for these efforts on their own.
New York City's Mayor Bloomberg may help to address that shortfall, via Bloomberg Philanthropies, with The Mayors Challenge. This competition is offering a cool $9 million in prizes for the U.S. cities with the best ideas for addressing social and economic problems, improving customer service for businesses and residents, enhancing accountability to and engagement with the public, and/or making government work better, faster and cheaper.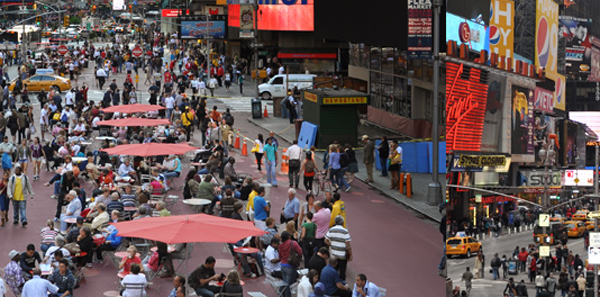 The competition is open to all cities with a population over 30,000, until September 14th. Later this year, Bloomberg will select 20 finalists from among those entries to attend Bloomberg Ideas Camp, a two-day gathering to help the cities involved refine their projects.  After that, finalists will receive individualized coaching, with the final announcement of winners to follow in the spring of 2013.
And lest you think all of this arises from pure fellow-feeling on Bloomberg's part for the nation's mayors, it's worth noting (as Fast Company has) that the Big Apple has adopted a number of innovations from other cities, including the 311 information service and a new bike-sharing program, both of which  had already been implemented in cities worldwide.
"Every day, mayors around America are tackling increasingly complex problems with fewer and fewer resources," said Bloomberg, in a statement. "Our cities are uniquely positioned to inspire and foster the innovation, creativity, and solutions needed to improve people's lives and move America forward." He goes on to note that The Mayors Challenge creates an opportunity for mayors to champion their boldest ideas and to have them take root both locally and (perhaps) nationally.
Whether it's using city sewage to produce power (San Antonio, Texas); partnering internationally to put smart grid tech to work in major downtown buildings (Chicago, Ill.); programs fostering collaborations between private, public and nonprofit entities for community solar projects (Portland, Ore.); or a program aimed at creating affordable housing that feeds energy back to the grid (Boston, Mass.), we can think of more than a few innovative green initiatives that might qualify for Bloomberg's Mayor's Challenge. (One such green initiative highlighted by the competition as a "great example" is PlaNYC, a broad effort to make New York City more sustainable, efficient, and livable, even as it prepares to become home to over a million more people by 2030.)
The competition is likely to be stiff, as U.S. cities are increasingly in search of cash to fund their big ideas — but whatever the outcome, The Mayors Challenge will no doubt help to facilitate a fruitful exchange of practical strategies between cities across the country, which can't help but be a good thing. Big enough to have a handle on the big picture — and big enough to matter — cities often prove more nimble than federal governments when it comes to innovation, as evidenced by the programs listed above. And as municipal leadership on climate change suggests, they may also be uniquely positioned to implement the changes necessary to shift the nation as a whole in the direction of sustainable development.