In addition to their prowess with rainwater harvesting (and, of course, that whole permaculture thing), Aussies will soon be able to lay claim to another green distinction: the tallest building in the world constructed with using Cross Laminated Timber (CLT). The high-rise apartment building, slated for Victoria Harbour, Melbourne, will also be shooting for 5 Green Star As Built certification, the Land Down Under's equivalent of LEED Platinum for New Construction.
CLT tech, which has already been used in Europe for a decade or so, will deliver better thermal performance than conventional high-rise framing techniques while requiring less energy to heat and cool, said Mark Menhinnitt, Chief Executive Officer for the Australian arm of the project's developer, Lend Lease, in a statement. He goes on to note that the CLT structure — combined with other design elements such as natural light, ventilation, sweeping outdoor views — will make it a healthier living option as well.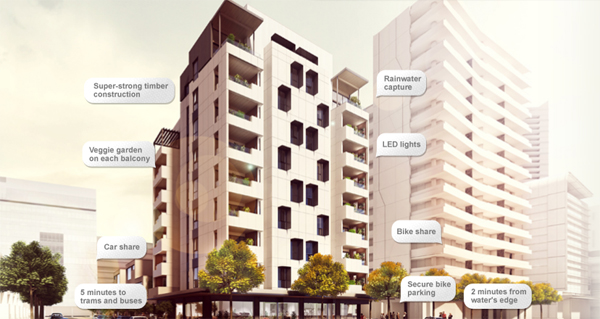 CLT is an engineered mass timber product that bears little resemblance to a traditional wood frame, composed of dense, solid panels of wood engineered for strength through layers of laminations. According to Lend Lease, CLT — on a weight-to-strength basis — will meet (and in some cases exceed) the performance of reinforced concrete. By building the high-rise apartment complex entirely of CLT, the company expects to reduce CO2 equivalent emissions associated with the project by more than 1,400 tonnes (around 1,500 tons) as compared to concrete and steel,  the equivalent of removing 345 cars off the road.
Other green features of the project include space for a vegetable garden for each apartment; LED lights; easy access to both a bike-share and car-share program, as well as public transportation; and (yes) rainwater harvesting. It will encompass over ten stories, offering 23 boutique residential apartments and four townhouses located just a stone's throw from the water's edge in inner-city Melbourne.