Situated on 130 acres just west of the main UC Davis campus, West Village is a net zero housing development, Phase I of a highly ambitious project to house an estimated 4,200 students and faculty members without producing so much as a whiff of carbon in the interests of electricity. In recognition of that ambition and its growing reality, the UC Davis West Village was recently featured in the journal Planning Theory & Practice.
The report, entitled "Exploring the Challenges of Environmental Planning and Green Design: Cases from Europe and the USA," featured four case studies in green neighborhood design, spotlighting UC Davis West Village as a model for new town construction and an example of how progressive planning and creative partnering can lead to new possibilities in energy conservation.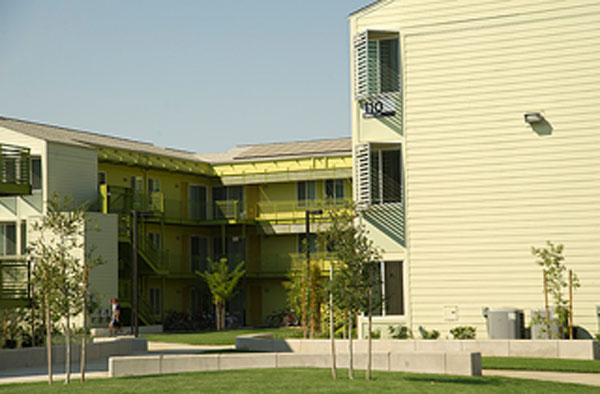 About that partnering: historically, the city of Davis has been adverse to new development, especially when such development ate up arable land in this highly agricultural region. In the end, though, the report found that the slow-growth culture of the Davis community ultimately became an asset to the project. "The strongly pro-environment views of Davis residents encouraged planners to make the project highly green in order to gain community support," the report says.
Super energy-efficient design, photovoltaic solar panels and a planned waste-to-energy biodigester are expected to create as much energy as the community consumes. The development also features bicycle and bus transportation, streets oriented to maximize passive solar design, on-site drainage, and relatively high residential density, exemplary of sustainable neighborhood design; it is the nation's largest planned net zero community.