A California solar developer has installed nearly half a megawatt of solar power on a cattle feedlot. It serves not only to cut the industrial cattle farm's electric bill, but it also supplies shade to the cattle as they live out their peaceful lives.
For agribusiness, the bonus of solar power modules to supply cooling shade to animals on a feedlot while also simultaneously generating electricity is an obvious win-win — and one that can easily apply wherever shade is needed on a farm. When there can be open air underneath, it also serves to cool the solar modules, which makes them more efficient as well.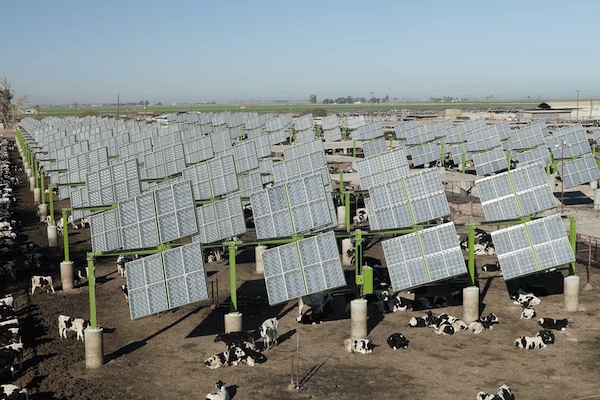 Independent Solar Developers (or powerfromlight.com as the company's website is more memorably named) claims that it has been the first to install, commission and operate a solar "roof" to supply both electricity and shade for a cattle feedlot using CPV.
The 2-year-old company's business model is aimed at a large agribusiness customer that has an energy bill of between 3 and 6 percent of farm revenue, and energy bills of more than $300,000 a year.
This Imperial Valley feedlot project uses concentrating photovoltaic (CPV) technology — also called concentrated photovoltaic — in a 480-kilowatt system. According to the developer, the array provides the farm with the equivalent of enough energy to serve 100 home. How much of the farm's electric need is met with the system was not said.
Although the press release and the website make no mention of which company is the supplier of this ingenious tracking system or of the CPV — a less-common form of solar that focuses and concentrates tiny mirrors on PV cells — the field is dominated by Solfocus, and they do utilize ground mount with trackers that further increase efficiency. Late last year we wrote about a pilot project in El Paso, Texas, that's using the SolFocus tracking system.
But this array appears to be mounted on a very unique tracking system that actually suspends the modules.
Trackers (normally pole-mounted) turn their modules to face the sun at sunrise, and keep them aimed at the optimum angle to the sun all day. By the look of these shadows, this photo appears to taken in the late morning, and the suspended trackers appear to have the modules tilted appropriately.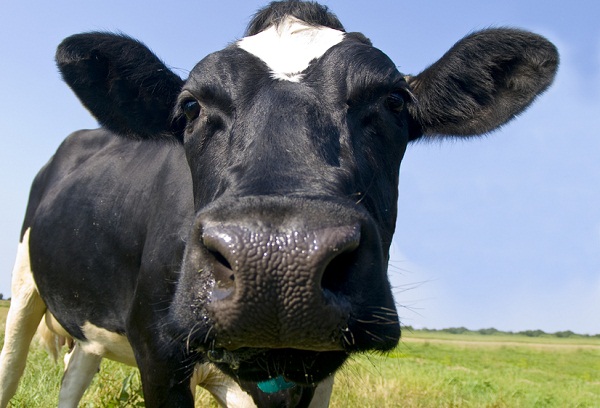 By midday, when the need for shelter from the sweltering Southern California sun is greatest, these Imperial Valley cattle would be able to cool off under a nearly horizontal "roof." The effect of the added shade might even help keep down the hot dry dust, which – if you've ever driven past these huge cattle farms on the way to Los Angeles – you'd know, can be horrible.
Where I'd like to see this idea used is on a dairy farm where the cattle are grass-fed, such as around Petaluma in Northern California. In a situation like that, the rotating shade would help in growing grass to keep it nutritious and green longer through California's hot dry summers, making solar shade into a win-win-win.