No matter how green your thumb may be, gardening is hard work. As my poor attempts to grow a few vegetables have shown, it's a constant struggle to keep weeds and pests at bay, while providing exactly the right amount of water, fertilizer and sunlight.
If you've worked hard to develop a well-landscaped yard and garden over the years, it's only natural that you should want to show it off. And who says a yard can only be enjoyed during the day? For just a few dollars, you can infuse your garden, yard, or flower beds with a cluster of dragonfly lights that only become more lovely as the sun sets.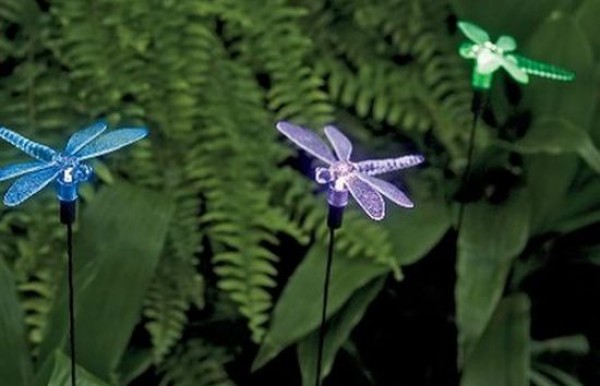 These delightful garden accessories are very simple and extremely easy to use. Shaped like a garden stake with a plastic dragonfly figure on top, these lights are powered by a solar panel. In some versions of the product, the solar panel is attached to the rod, while in others its connected by a cord, allowing the panel to be in the sun even though the shrub or pot might be in the shade. The panel gathers sunlight throughout the day, charging the tiny LEDs located inside the dragonfly. Once charged, the LED bulbs glow up to 10 hours. It comes complete with an automatic sensor that turns on the light at night, although you can also use the normal on-off switch.
As noted in this review, the solar dragonfly lights can also be used as tree or bush decorations during the holiday season. Simply wrap or hang them from branches for a whimsical light show that will rival the power-sucking string lights used by your neighbors. Now all you have to do is pair them with this solar-powered rainwater irrigation system or this wind-powered composter, and you'll have a complete off-grid garden!
Single lights are available from Target.com at $9.95 apiece, while sets of three (multi-colored) can be purchased online for around $35.