There seems to be no end to the popularity of public car sharing services like Zipcar or car2go for folks (like me) who don't want to bother with the cost of owning, fueling, insuring and parking a car in a big city that is ripe with public transportation options.
Car sharing allows individuals to tap into a fleet of conveniently located vehicles for a few hours or days at a flat rate. Now, that same idea is being applied to a simpler, greener and (we can confirm) more fun transportation option: electric scooters. Michael Keating, a Harvard Business School grad, founded San Francisco-based startup Scoot Networks as a way to provide a cheaper and greener way to get around. "I found it to be challenging to get around in cities," Keating said in a recent interview. "Nothing has changed since the automobile."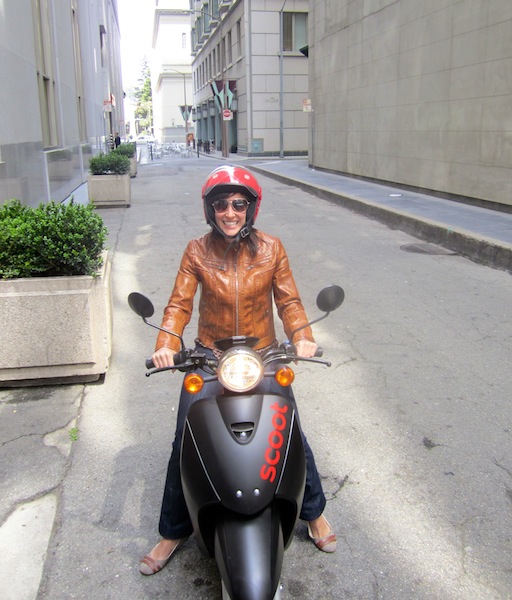 It's a problem that countries outside the U.S. have tackled by using more two-wheeled vehicles –motorized and not — and by implementing bike sharing programs. Keating came up with the idea for Scoot Networks after looking at the Chinese market, which sells an estimated 10 million electric scooters a year. He bought a fleet of electric scooters from China and outfitted them with smartphone technology that allows them to be unlocked, ridden and shared by the masses.
The Scoot bike network is accessed through an iPhone application that shows users the location of scooters in their vicinity, unlocks the bike and allows the rider to use mapping navigation. The scooters are also wired to be used with Android devices, but the application is still in the works.
The scooters use a 60-volt battery and top out around 30 mph. That makes them unsuitable for traveling on freeways or longer distances, of course, but they're perfect for popping across town or commuting up steep hills you'd rather not walk in business attire. After taking one of the Scoot bikes on a test ride, I can report that these are not only fun, they are handy and practical for short commutes around the city.
Owning my own gas-powered scooter that I frequently use to tool around the streets of San Francisco, I wasn't sure just how the low-powered electric scooters would stack up. But I was pleasantly surprised to find it keeps up just fine. And, as with an electric car, the scooters are nearly silent. What I especially like about them is unlike gas scooters, there are no stinky emissions. Since they don't need gas or oil, they can easily be taken indoors for storage. And when you use the throttle, you get a nice peppy start.
With their low speeds and the relative safety that comes with that, these electric scooters could appeal to folks who are not regular motorcycle or scooter riders; you don't need a special motorcycle license or training to operate one. Plus, people can give it a whirl without having to purchase one, and the rental cost is modest. "They are green and so cheap that we can charge a reasonable fare for people that is competitive with public transit," Keating said. He hasn't set a subscription fee for everyday commuters who want to use the service on an ongoing basis, like Zip Car has, but rather a use charge, with rides costing around $5 for a ride and $10 for overnight use.
The Scoot bikes are currently being used in pilot testing while the company's insurance details are being worked out.  Meanwhile, Keating is in the midst of raising a seed-round of funding with a possible Series A round of funding to come this summer. He says the plan is to first target companies with large campuses or  co-sharing spaces to use the service and by 2013, hopes to have everything in place to open up the scooter sharing-service to everyday commuters.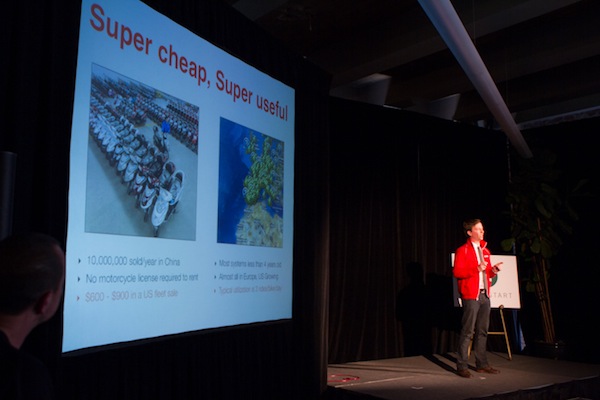 Scoot is one of five companies participating in the Greenstart Accelerator program. For those who've learned about the company, a big rollout of the service can't come fast enough. Keating said he's received emails from about 2,000 people who've signed up on the Scoot website asking for more information. "We've got emails from people all over the world," Keating said. "When someone from Oman wants to know when you're coming to their area, it's a great feeling."
After San Francisco, Keating sees a rapid expansion not only in cities across the U.S., but worldwide. "Any city where traffic is bad, parking is expensive and transit is slow, that's where we can get in," Keating said.