Whether we admit it or not, we depend heavily on our electronic devices to keep us organized, productive, and entertained. This dependence probably isn't healthy, and we often need to remind ourselves to step away from the screens and wires, but it's a fact of life in this information age.
The only problem is our gadgets are dependent on something too: electricity. And unlike us, they really will die if forced to go without it. As a result, there's an entire industry of products designed to power our devices when plugging up to a wall outlet is out of the question. Some convert sunlight, kinetic energy, heat, or wind power into juice for a phone or computer. But, as so many are quick to point out, even these renewable resources aren't always available. Lilliputian Systems (LSI) recently teamed up with Brookstone to market a portable charging system that could sever our outlet tethers for good.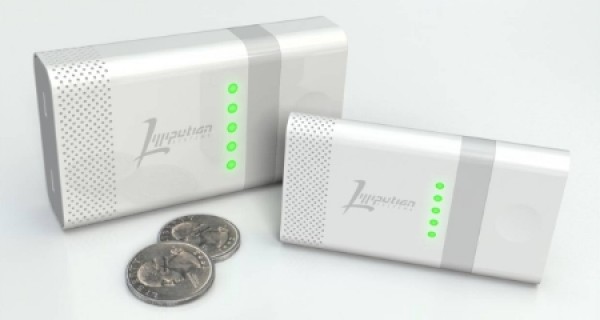 The device will feature LSI's patented Silicon Power Cell technology, originally developed at MIT's Microsystems Technology Laboratory.  It includes a chip based power generator and is fueled by recyclable high energy fuel cartridges. According to LSI the technology is reliable, approved for use on aircraft, and six times more efficient than using a wall charger.
Unlike solar or heat-powered chargers, LSI's standalone, portable, lightweight, "plug-less charger" product will provide weeks of power to any USB compatible device, the company says. This means the system can be used for multiple devices, significantly reducing the need for consumers to travel with cables and power adapters, all at a much lower cost and carbon footprint than spare batteries.
"Brookstone's widespread distribution, brand recognition and reach to our targeted customer base are world-class and we are certain this will be a successful partnership," said Ken Lazarus, Lilliputian CEO.  "Together with Brookstone, we look forward to providing customers with a real solution to the challenge of keeping today's mobile devices powered."