Readers who've been following the progress of Pittsburgh's deep green Phipps Conservatory Center for Sustainable Landscapes (CSL) here at EarthTechling know there are some cutting-edge green building strategies at work behind the facility. Now, those readers will be pleased to hear that all of those good ideas are now a reality, as Phipps recently celebrated the opening of the CSL with a gala ribbon-cutting and reception "opening the doors to one of the greenest buildings on Earth."
The building is the centerpiece of the $20 million Phase III of a multi-year expansion project underway at Phipps to upgrade and expand facilities, and to emphasize more green and sustainable building practices and operations. It relies heavily on passive solar strategies to reduce the building's heating and cooling loads, as well as on a virtual gopher-empire of geothermal wells to keep temperatures in the building hospitable year round.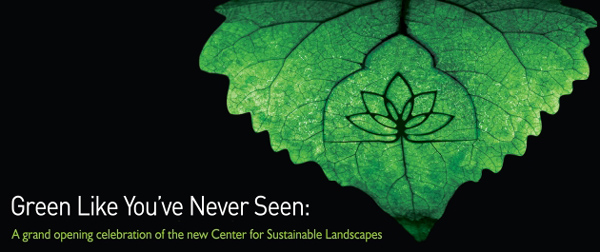 The CSL makes use of a rooftop energy recovery unit (which recognizes when the air outside the building is cooler or warmer than temps within, and exchanges air between the two when conditions are advantageous) coupled with a desiccant wheel that utilizes energy that would otherwise be exhausted from the building to pre-treat temperature and moisture in incoming outside air with minimal energy use and without the use of mechanical refrigeration.
Other uber-green features of the CSL include vertical-axis wind turbines, demand-controlled ventilation, and an integrated wetlands/living machine wastewater treatment system. When complete, the building will generate all of its own energy and treat all of its own wastewater on site, as per the conditions of the Living Building Challenge.
Phipps recently celebrated the opening of the CSL with a gala ribbon-cutting ceremony, garden party and reception on May 23, with all proceeds benefiting the conservatory.