The wacky world of personal mobility devices is best represented by the Segway, which one finds mostly at use these days as a tourist ride in vacation destinations. There have been, of course, some knock offs on this over the years, but the Segway pretty much keeps the standard for this category. A new Honda offering – the UNI-CUB -doesn't look like it will be king of the hill in this space any time soon either.
Honda says the UNI-CUB is an evolution of its U3-X personal mobility device, which we profiled a few years back. The UNI-CUB , not to be confused with Honda's EV-Cub, looks to be just as uncomfortable as its predecessor. A saddle style seat is where one rests their back end, engaging with the device's omni-directional driving wheel system to go in the direction desired.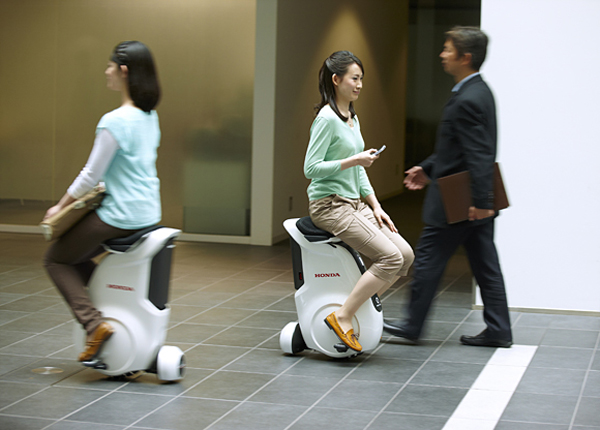 The UNI-CUB, through this system, lets one control speed, move in any direction, turn and stop all simply, Honda says, "by shifting his or her weight." One can reportedly "freely move forward, backward, side-to-side and diagonally," so you can quickly get out of the way of either other people walking around you, or perhaps someone riding another one of these towards you in a jousting-style action.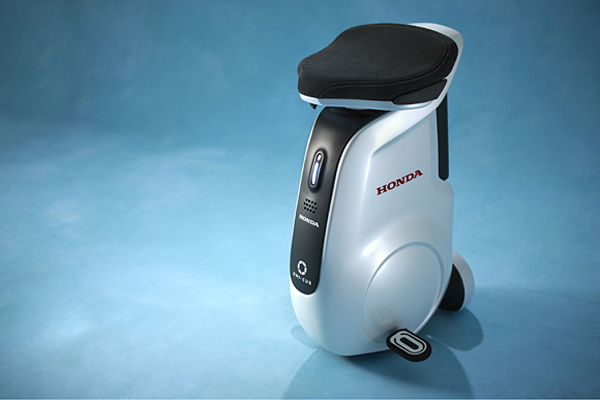 To keep things even more entertaining from a control perspective is an option enabled by Honda to control this device via "touch panel control" on a remote such as one's smartphone. There's a certain irony in this, as you likely will be looking down at your control device as you slowly move along. To be safe on the UNI-CUB, it is designed to let its rider maintain "eye-level" height with others nearby. Kinda hard to do if you are busy staring at an iPhone control app, don't you think?
Lithium-ion battery technology powers the UNI-CUB, which gets a range of close to four miles on one charge. Top speed on this electric vehicle ride is around four miles per hour which, while impressive for someone not wanting to walk the distance, might be more easily and quickly accomplished by riding an electric bike to your destination. Of course, if you are dodging down hallways in one of these, which Honda says is the preferred environment for this two-wheeler, biking might not work.
Honda plans to jointly conduct testing of the UNI-CUB, which shares balance control technology with Honda's famous ASIMO robot, next month with Japan's National Museum of Emerging Science and Innovation. Part of this project "will explore the practical applications of the device in a wide range of environments in Japan and other countries."
If it ends up coming to the United States, would you be interested in owning one? Or do you think, as I do, that this is a form of electric vehicle technology best left to the labs and minds of mad scientists? Leave your thoughts below.