From the wind-powered Gunderson Lutheran Health System hospital in Minnesota to a solar hospital in Chihuahua, Mexico, it seems we can't turn around these days without running into another green hospital story. But while renewable energy systems at health care facilities are still cutting edge, LEED certification, increasingly, is becoming par for the course, as in Los Angeles, where construction has begun on the new $150 million Martin Luther King, Jr. Multi-Service Ambulatory Care Center, expected to garner LEED Gold green building certification.
The four-story, 132,550-square-foot facility, located on the existing Martin Luther King, Jr. Medical Center campus, broke ground this past January. It will house five operating rooms as well as dentistry, oncology and physical and occupational therapy services facilities, with 10 acres of parking and landscaping. The project also includes a 31,000-square-foot LEED Silver-rated renovation to existing administration space, as well as off-site signalization and street improvements.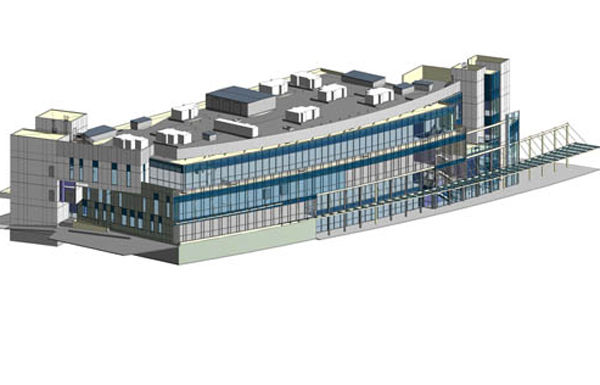 The project makes use of products with recycled content and locally manufactured products, as well as LEED-point-earning strategies like construction waste stream recycling (95 percent of all construction debris generated by the project was recycled), elimination of light pollution, and water use reduction, as well as — most notably — an elaborate rain water harvesting program. This system shunts run-off into the soil beneath the parking lot, and was designed to hold the kind of storm that only hits L.A. once in every ten years (about one inch of rainfall over the site).
The team behind the Martin Luther King, Jr. Multi-Service Ambulatory Care Center project include HDR Architecture, Inc. and McCarthy Building Companies on construction (the latter of which being a long-time veteran of the health care construction business). The project is slated for an early completion in July 2013.