Intro:
Energizer, besides being known for batteries, also develops a small quiver of solar and crank-powered lamps and flashlights. They all fall under the company's "Preparedness Lighting Products" category, which is inexpensive and entirely plastic in hunter orange and grey. When they first came up for review we flinched a bit– "green" plastic goods made by an eco-dubious multinational? Hmmm. But hold on a sec: turns out these things are useful, durable, and damn handy to have on hand.
We fiddled around with three different types of these Energizer hand-held lights to get a sense of whether they have the oomph and hardiness for demanding emergency situations: a solar powered lantern that could be useful while changing a tire on the side of the highway at night; a solar powered hand-held spotlight that would  help you find your way around the house during a blackout, and a palm-sized crank/solar-powered flashlight that might be a lifesaver when you're stuck descending a mountain trail after dark. Read on to see how well they shined.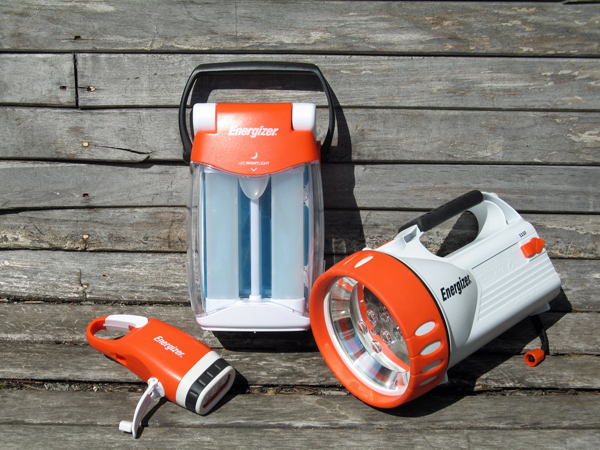 De-boxing:
From an eco point of view, the boxing on these bad boys is surprisingly innocuous. All three lights come framed in cardboard, so they can hang in in bulk retail displays. Strong twist ties hold them in place. Very little plastic is involved (aside from the plastic used to make almost every part of the lights themselves).
Features:
The Energizer Solar 9-LED Lantern is outfitted with a handle at the top so it can be carried in a dangling style, just like an old-timey lantern. That is where the resemblance between this lantern and old-timey stuff ends. Its two frosty white tubes (which look like miniature fluorescent overhead light tubes) diffuse the light from four white LEDs, and can be positioned at various angles. When they're in the down position, a reflector behind them helps spread the light even better.
The lantern also has a single orange LED nightlight. Flip the switch to the nightlight position and something like an iridescent  gummy candy glows inside. Flip the switch over a few notches more to change from the solar powered battery to the three D batteries that you've placed inside as backup—they'll give you 165 hours of use, when needed. The lantern's solar panel can be rotated for ideal sun exposure, and supposedly it puts out 66 lumens, runs for 2.5 hours on the solar battery after five hours of charging and can reveal stuff 10 meters away.
The Energizer hand-held Solar 4-LED Spotlight has the same form factor as the classic 12-volt flashlight. You know, the kind that used to take those big batteries and just had a big round rubber thumb switch to click on or off on top? Yep, but this one only uses a solar powered battery, is nearly waterproof and shines like the dickens.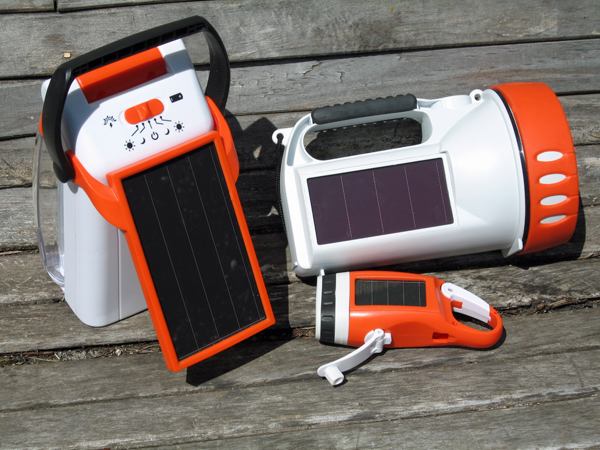 Don't look directly into its four LEDs when they're on—the spotlight's lens focuses its 24 lumens so well that it can shine 44 meters into a dark forest or unusually huge basement. Five hours of charging via the solar cell in the spotlight's side will yield 3.5 hours of light, but 12 hours of charging with the included car cigarette lighter power adaptor will give you five hours of piercingly bright white light.
The tiniest beacon of the bunch, the Energizer solar and crank-powered 3 LED Flashlight, has a solar cell in the handle and a built-in carabiner on its tail for clipping to bags and such. This means that you could hang it on your backpack for charging while hiking. With five hours of charging you can get two hours of intense white light when you arrive at your campsite. If the solar cell on the side of the flashlight didn't get enough juice, you can unfold a small crank from its side and use human power to refresh the battery.  A minute or so of whirring it around earns you four more minutes of illumination.
Setup:
Setup was remarkably easy on these things—take them out of the boxes and you're ready to cut through the darkness. Well, you might want to put them out in the sun and charge them first. You could also put some D-batteries in the lantern for backup. It's pretty easy with a flat-head screwdriver or just a thumbnail.
Performance:
These little orange marvels of the plastic age are surprisingly hardy. We rattled all three lights around while using them and poked around inside to verify that their simple circuitry is secure and wouldn't give out if the lights were dropped on occasion.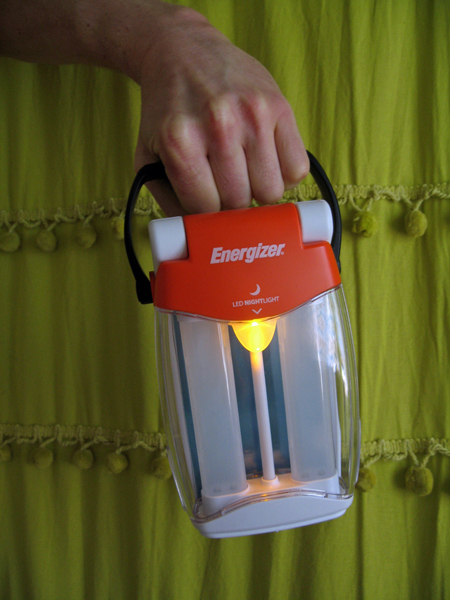 The Solar 9-LED Lantern seems a likely candidate for car or boat use. It's too heavy for backpacking, but could be really nice to have at a picnic table or in a tent (don't forget the cute little orange on-board nightlight!) when staying at campgrounds. You could also use it to illuminate a task (like changing a tire) that requires your hands to be free.
The Solar 4-LED Spotlight, on the other hand, is feather-light and easy to simply hold in one's hand while walking. Its included car lighter power adapter also makes it a candidate for car use. Put it in the trunk for unexpected roadside events.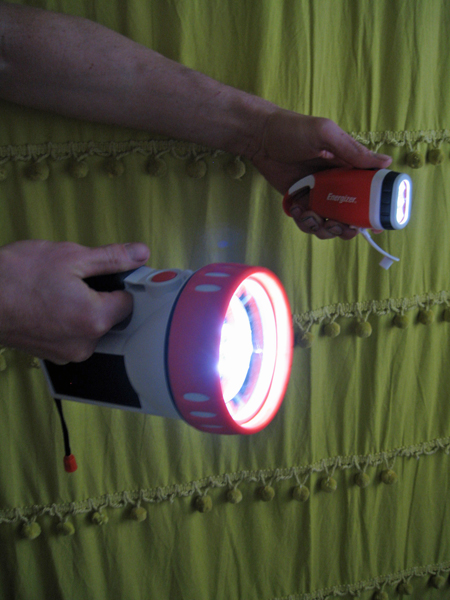 The 3-LED Flashlight is handy and dandy, though we lost confidence in its little battery hand crank when we started spinning it. It is fitted with a tiny knob of a handle that seems like it will break off at any second. The light it puts out is nice, though—just try to charge it with the sun whenever possible.
Conclusion:
These lights deliver just what they promise at a competitive price range. All are capable of running entirely without batteries—ever–if you use the onboard solar cells to charge them all the time. Backup options are included, yes, but won't it feel good to never have to buy energy for your flashlights again? Strangely, Energizer is betting it will. Pricing: Solar 9-LED Lantern  – $43; Solar 4-LED Spotlight  – $43; 3-LED Flashlight – $25 (Note that prices may be lower at various retailers)