There's no telling how much land sits vacant in America. Some of this land is just unused, while other plots, called brownfields, have been contaminated by industrial waste, and deemed unfit for use. There have been no comprehensive studies to tally it all, but there are some clues that it's a big number. A 2000 study of 70 major American cities found that on average, 15 percent of a city's land sits vacant [PDF]. The Environmental Protection Agency estimates there are around 490,000 vacant sites and almost 15 million acres of potentially contaminated properties nationwide.
While all this land sits wasted, cities are struggling to implement energy strategies that will provide clean, affordable power to their residents. New tools created by EPA and U.S. Department of Energy's National Renewable Energy Laboratory (NREL)  first step toward turning these underutilized sites and contaminated lands into wind and solar power plants.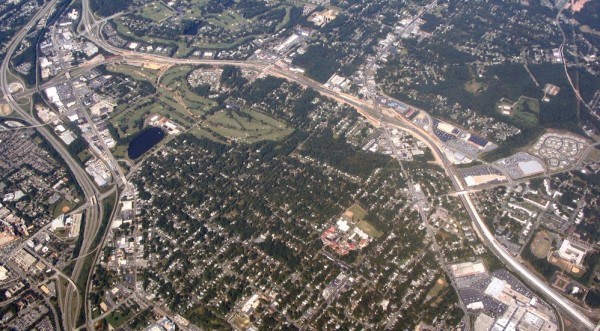 The two agencies have joined forces to create new tools that will give local communities and landowners ways to evaluate sites for renewable energy potential without the need for technical expertise. Called alternative energy "decision trees," these tools  guide users through the process of determining whether these brownfields or vacant lots are suitable for solar or wind energy development.
"Opportunities to install renewable energy systems on vacant properties can be found in every community," said Jared Blumenfeld, EPA's Regional Administrator for the Pacific Southwest, in a release. "Tapping sun and wind power at brownfield sites, rooftops, parking lots, and abandoned land could provide untapped gigawatts of clean energy."
The city of Richmond, Calif., is serving as a pilot community for the the development of the tools. Government officials hope that if successful, they will help increase economic value of formerly ignored properties, provide a sustainable land reuse option, create local green jobs and provide clean energy for use onsite or for the power grid.