Construction has begun on a major renovation of a 100-year-old former tannery warehouse in the new Innovation District along the South Boston waterfront. With move-in projected for within the next year, the six-story, $22 million "Living Laboratory" project will allow researchers at the Fraunhofer Center for Sustainable Energy Systems (CSE) to get a better handle on innovative green building strategies, from the phase-change materials within the building's walls to the way energy is transferred to where it is needed most, to how the building actually generates power.
Not long ago, we brought you word on the 37 industry partners who will be participating in the Center's Building Technology Showcase. These partners will be kicking in a combined total of $2.7 million in advanced building energy technologies and services to the project, and will be working with Fraunhofer CSE on research projects to be deployed and integrated into the new center.  That list includes major players such as Siemens and DuPont, as well as Pythagoras Solar, Schucho USA and TIGI.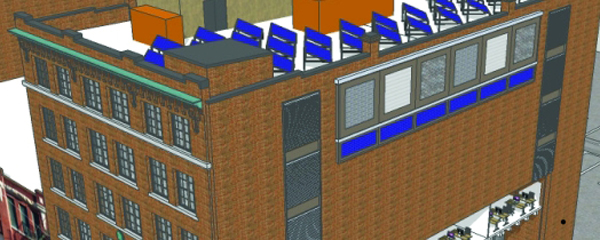 Renewable Energy World (REW) reports that the new building will house an interactive exhibit space for visitors,  floors of office space for teams working on solar technology and energy efficiency and a whole room for solar itself (both on the roof and as part of the test chambers on the facade of the building). But the real focus here will be on discovering how all these technologies can work together in creating breakthrough efficiencies and integrated green building strategies.
"That building is going to be our tool to do all of this," Scientific Director Christian Hoepfner told REW. "For us, a building is a system. This will be a great systems testbed. It's multifaceted. We've designed it to be very versatile."
The building, located at 5 Channel Center, will feature advanced laboratory facilities that will facilitate R&D with industry partners (which, in turn, will receive real-life testing of their products and systems in an energy-efficient commercial building environment), and focus on building energy efficiency system validation and the commercialization of promising technologies through its TechBridge. More information is available online.