Florida may be the Sunshine State, but there's certainly plenty of warm sunlight out in California as well. Although Los Angeles accounts for 10 percent of the state's electricity demand, it currently only produces less than 1 percent of its power from solar generation. A recent polled showed that a strong majority of Los Angelenos want to see the city put its abundant sunlight to better use.
The survey of 400 Los Angeles Department of Water and Power (LADWP) customers found that 87 percent wanted the utility to use more electricity generated by solar panels, and 79 percent wanted more electricity generated by wind turbines.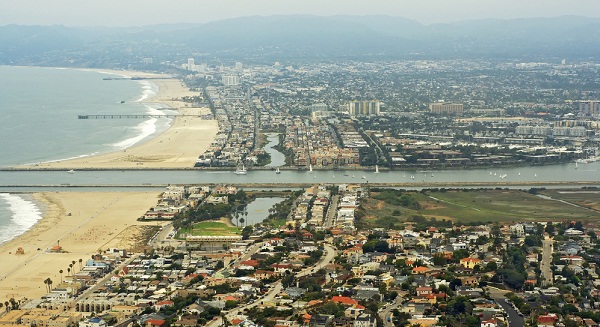 The poll, conducted by public research firm FM3 on behalf of the Vote Solar Initiative [PDF], also found that 76 percent of respondents feel that the LADWP should be doing more to expand the use of Los Angeles rooftops to produce solar energy, and a whopping four out of five (81 percent) support the LADWP increasing its local solar goal to 1,200 megawatts, 10 percent of Governor Brown's goal for local clean power. Support for this goal remains strong across the political spectrum, with majorities of Democratic, Republican and Independent voters all expressing support.
Last November, recent a study by a research team from UCLA and the University of Southern California found that LA lagged behind other California cities in solar jobs and the amount of solar power capacity per capita. According to the study, the LADWP was generating less than one-sixth as much solar power per customer as state leader Southern California Edison, and had one of the weakest solar track records among major California utilities.
Still, some might be surprised that LA, a city notoriously obsessed with appearances, would show such vigorous support for the implementation of solar panels on rooftops across the city. But solar advocates say that regardless of economic status or political persuasion, Los Angelenos realize renewable energy is a smart decision.
"Local solar power puts our energy dollars to work building a healthier and more prosperous L.A. An expanded solar program would put more boots on roofs and create more jobs in areas that need them most," said Bill Gallegos, executive director of communities for a Better Environment (CBE), a leading environmental justice organization, in a statement. "Poor communities often get the worst of the fossil fuel energy system. It is only fair that they enjoy the environmental, health, and economic benefits of the clean energy system."