A house of cards sounds flimsy at best. But not the House of CARDS (Cardinals Achieve Renewable Design with Solar) on the campus of the University of the Incarnate Word (UIW) in San Antonio. This fully sustainable house is a collaboration between the university and Solar Community, a leading solar integrator that buys and leases solar energy systems. The project was completely designed and constructed by UIW engineering students.
The House of CARDs originated in 2007 when UIW chair of the engineering department, Alison Whitmore, was searching for a project that would allow students to put both their engineering abilities and their management skills to use. A student told Whitmore about the U.S. Energy Department's Solar Decathlon, which challenges collegiate teams to design, build and operate solar-powered houses that are attractive, cost-effective and energy-efficient. Whitmore decided to make entering the contest the 2008 spring research project at the university.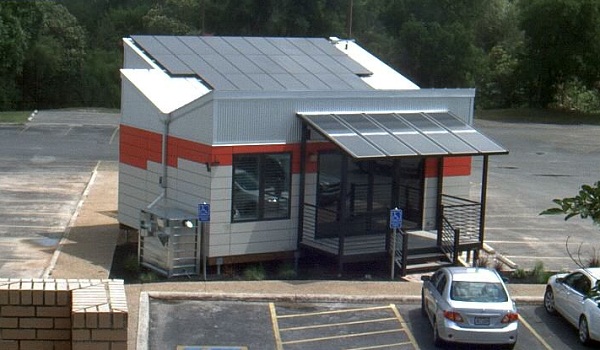 Following Decathlon parameters, the students designed a home of less than 1,000 square feet powered 100 percent by photovoltaic cells. The team evaluated and scored 10 different areas, ranging from the quality of architectural and engineering design to marketing viability and website development.
While it was assumed this was simply a class project and that the house would never be built, the spring 2009 senior class elected to develop an actual proposal to submit for the 2011 Decathlon. The proposal was accepted into the final round of judging, and the seniors worked on the next set of requirements for the semifinals.
While the house did not make the cut for the Decathlon, a College Cost Reduction and Access grant and assistance from Solar Community helped the students proceed with the construction of the House of CARDS on campus. Ground was broken in April 2011. Solar Community installed 25 SunPower 225-watt modules, 10 Sanyo 195-watt bifacial solar panels, an SMA high-frequency central converter and a variety of other materials.
The House of CARDS is located in an easily viewed spot on the UIW campus. The project will be seeking a LEED Platinum certification, and the remaining senior project teams might apply for the 2013 Decathlon.