Zipcar, perhaps the best-known car sharing service in America, has announced that the company will be providing Chevy Volt rentals for its Chicago customers. Although the business is calling the program its first "electric vehicle pilot program," we should point out that Volts are technically plug-in hybrids and not pure electric vehicles like the Nissan Leaf that at least one Canadian service employs.
Still, as we've noted before, the Chevy Volt can travel up to 35 miles in all-electric mode, and given the often short trips that many car-sharing users make, the addition of the vehicles to Zipcar's Chicago fleet is a great step toward becoming more green-friendly.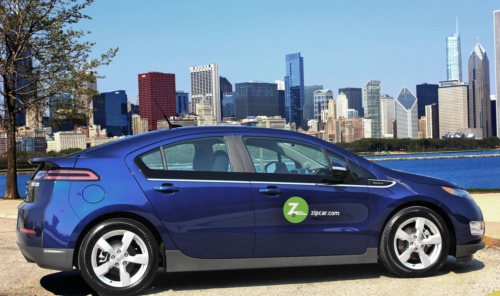 Zipcar selection of the Volt as its first model for large-scale, eco-friendly transportation is a reasonable choice, even though manufacturing of the vehicle was suspended earlier this year. We've noted that sales of the car are up, and that GM's CEO has personally addressed concerns of the vehicle's future. Unlike an all-electric car-sharing service provided by rival business car2go which has a fleet of true electric vehicles and minicars, Zipcar is taking a more mainstream approach, potentially using the Volt instead of the Leaf as a way to alleviate range and charging concerns some drivers may have.
350Green is partnering with Zipcar for this program by providing charging stations where the vehicles will be parked. And according to Zipcar, the company will add 20 more vehicles to the fleet over the course of 2012, with cars available at the University of Illinois at Chicago campus, as well as high-traffic areas of the city like the Loop, South Loop, River North,  Gold Coast, Streeterville, Lincoln Park and Albany Park. If you're not sure exactly where those locations are, you're probably not a Chicagoan, but fret not as all the information can be found on the Zipcar website.