You love your newly remodeled Victorian, with its huge bedrooms and clawfoot tubs. What you don't love is the smell of an old house. It's a ghostly presence which almost nothing—even new paint, carpeting and flooring—can eradicate. You are especially grossed out because you know that the eau-de-mouse odor also signals other bad air problems like mildew and mold, especially black mold, which can cause allergies, asthma, irritation of the lungs and even invasive diseases in you and your loved ones.
You could run out to your favorite nursery and buy all their indoor plants. That's certainly one leafy green solution to indoor air pollution, but who has time to water and tend all that? The other is a Wow Air Green air filtering system.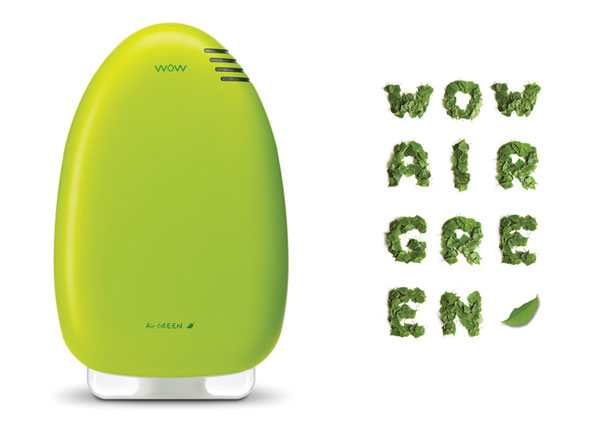 From Sang Keun Sim & Kyowon L&C Design Lab and noted on Yanko Design, this nifty little single-room air filter is not only as green as a new spring leaf, but highly effective at removing problems from air with its five-stage filtering system that includes HEPA filtration. (The HEPA designation,m by the way, is not the brand name of a filter, but a kind of filter – High Efficiency Particulate Air, to be exact. To earn the name HEPA, air filters must remove 99.97 percent of all airborne particles large than 0.3 micrometers.)
At that rate of filtration, you can be sure that particulates won't escape. Odors are particulates by their very definition, so this filter takes care of them. It also takes care of those nasty viruses that migrate from one person to another during winter, but not as a result of the HEPA filtration. No, the Wow scrubs these tiny critters (about 100 nanometers, or 0.1 micrometer) using plasma ion technology, which mimics the way Nature cleans her air (with plants)—a method so effective it even cleans air of the toxins contained in second-hand smoke.  And don't worry about Yanko suggesting that the Wow Air Green is for use in a child's study room. Grownups will appreciate as well.