Even though product designers are expected to consult the very people who will use a product—to determine if it is useful or merely an annoyance—it's rare that product design completely rethinks the process to turn out something that makes everybody happy.
Not so with the Renew Solar Battery Charger, a design concept takes a page from the past to introduce a solar-powered battery charger that works like the Pez candy dispenser of your childhood. How cool is that? No more pondering your old battery charger, wondering which batteries have been in it long enough to take a full charge, or breaking your fingernails getting charged batteries out of its grip and forcing dead batteries in. Equally as important, this new battery charger offers the kind of aesthetics that would make you glad to set it on the edge of a desk, table, counter or windowsill as a testament to your environmental awareness.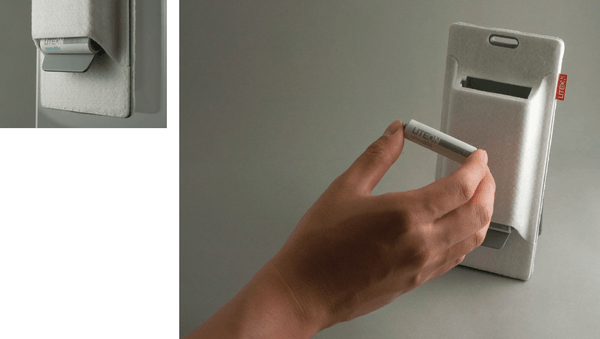 The Renew's vertical storage is the sort of no-brainer that makes one wonder why no one came up with this idea before. And the handsome, fingerprint-proof pebble finish means that Renew won't reveal all the "foody" fingerprints that have accessed it. In addition, the Renew Solar Battery Charger comes with a window hook, if you can't find enough flat space to set it up, and a table stand for the neatniks, who always have dust-free flat surfaces available.
And, of course, the solar panel on the reverse makes using batteries almost guilt-free, right? Because the only problem with some batteries is the fact that they end up in landfills and eventually start leaking their toxic burden of heavy metals (or lithium) into the ground, contaminating groundwater supplies. In fact, Americans throw out 180,000 tons of batteries, which is creating an ecological nightmare. The Renew Solar Charger could be one very good solution to that problem.