Less than a year after its start, an ambitious rooftop solar panel project by Riverside Renewable Energy—said to be the "largest of its kind in North America" by its developers—is complete at the Gloucester Marine Terminal in Gloucester City, N.J. The $42 million project created 200 construction jobs and already supplies about 80 percent of the 150-acre terminal's power demands.
The terminal is home to the largest on-dock refrigerated warehouse on the East Coast and stores fruits, meats and dairy products around the clock. Its electricity demands are high. The Riverside project installed 1.1 million square feet of solar panels. These high-efficiency panels can produce about 9 megawatts (MW) of electricity—enough to power more than 1,500 homes. The system is expected to offset the same amount of carbon as planting 400,000 trees.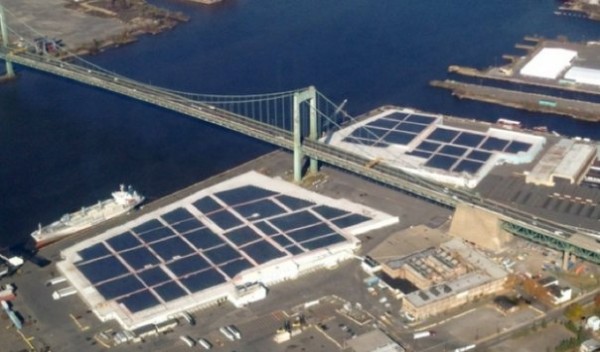 State and federal governments provided incentives that helped drive the plan to success. According to Lee Solomon, president of the New Jersey Board of Public Utilities, the project is "consistent with the policy set forth in the recently released 2011 draft (NJ) Energy Master Plan, which calls for photovoltaic solar arrays on commercial and industrial properties to lower their utility bills, improving competitiveness and reducing demands upon the electric grid." The project received credit for ongoing solar generation through the New Jersey solar renewable energy credit program.
On April 5, 2012, U.S. Rep. Robert Andrews (D-N.J.) presented terminal officials with an award letter for an $11 million federal tax credit rebate under the Section 1603 program from the U.S. Department of the Treasury, which was enacted in 2009 with the congressman's support to foster pioneering investments in clean energy technology. "The Riverside project is an outstanding example of how we can create jobs that move us towards cleaner, more efficient and cost-saving energy that doesn't come from overseas," said Rep. Andrews.
The Holt family, owners of the Gloucester Terminal, oversaw construction while in partnership with SunPower, a global solar power technology company; Rabobank, a global bank and financier of renewable energy projects; and PSE&G, the local utility company that helped with the interconnection to the PJM power grid.
The project was completed ahead of schedule, despite the high-wind location on the Delaware River and the fact that oversight by the U.S. Department of Homeland Security was required.
"A lot of things had to happen to make this project come together, and we enjoyed great teamwork from conceptualization through installation and onto completion," said Leo Holt, president of Gloucester Terminals. "This project positions Gloucester Terminals for future success in an incredibly competitive field and helps ensure plenty of activity for the Delaware River port community."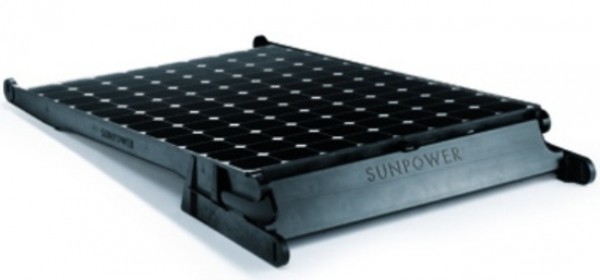 Many other states, such as California, Maryland, New York, and Arizona, among others, have embarked on solar rooftop projects, but none as impressive as the Gloucester site with its more than 27,000 solar panels.
Smaller scale rooftop solar power technology has steadily improved for the do-it-yourself types who strive to follow the lead of these big investors. To learn more about renewable energy for your own home, click here to check out the Instant Connect solar panel system from Westinghouse Solar.