We cover a good deal of concepts here at EarthTechling, but few ideas are as well designed as the various electric motorcycles and scooters we regularly come across. And such is the case with the Monocasco Concept Bike, which we first noticed over on the Yanko Design blog.
Conceptualized by Art-Tic design team in Barcelona, the bike is based on the original Ossa bike of  Santiago Herrero, the Spanish designer and Grand Prix motorcycle road racer from the 1960s who developed a special monocoque technique for bikes that used the external structure for the support of the frame.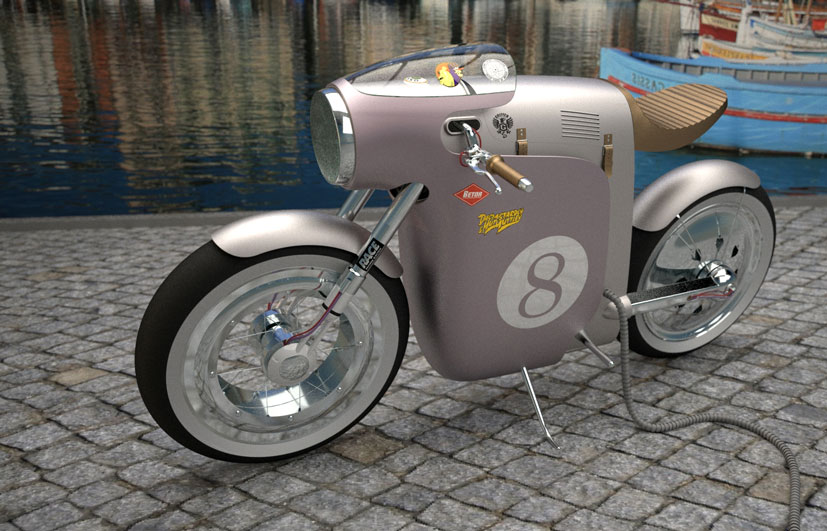 The somewhat bulky frame of the Monocasco Concept Bike based on Herrero's legacy suggests the motorcycle emphasized design, not performance, first—but it us a very nice design indeed. From the looks of other Art-Tic design projects, the group seems to focus on furniture and other household items. As you might expect, there are no technical details listed for the vehicle.
So we'll have to dream-up some on our own. First, let's assume the bike would be more like an electric motorcycle than an electric scooter. Next, given that the Monocasco Concept Bike has a large frame, it could be similar to a 100-watt, 48-volt concept we covered last fall called the Moto Undone, or a higher-end product designed by Dutch company Orphiro that comes equipped with 72-volt lithium-ion battery.
Between those two models, the Monocasco Concept Bike could have a top speed of around 75 mph, and a range of approximately 60 to 90 miles. Not bad, but certainly not something you'd want to race on an open stretch of pavement. And seeing as how a Tron-inspired electric bike was priced at $55,000, we're going to say the Spanish concept would have to be a little less, perhaps $45,000 depending on the features.