As fresh water supplies shrink around the globe, some very concerned scientists have started calling clean, drinkable water "the new gold," envisioning a time when this resource – essential to human life both directly and in its use on food crops – will be as scarce and precious as that famously treasured metal.
These water conservation experts for quite some time have been calling for measures like greywater recycling (from dishes, laundering clothes, even showers) to prevent depletion of earth's most valuable resource next to breathable air. And industrial designers are beginning to listen, as witness one of the recent postings on Coroflot, the Internet hotspot where designers go to host their creations.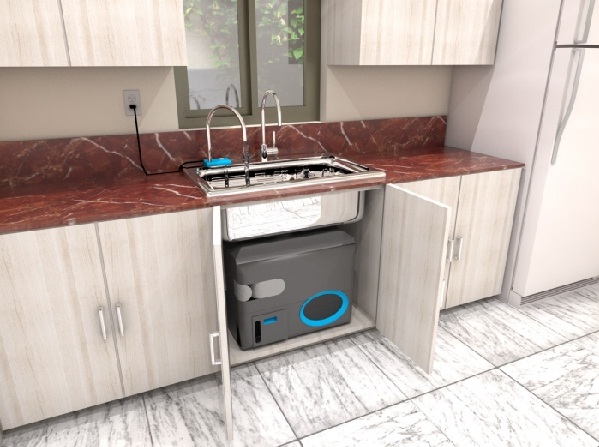 The invention, by Alexis Lizares, is still in the concept stage, but probably not for long as large appliance makers like Maytag, Amana and Whirlpool realize the potential of water recyclers to not only boost sales but save the environment. And Lizares concept is more than just a pretty face – though clearly hours of thought went into the color selection of gray and blue. As Lizares herself points out, a study of more than 30 individuals shows that white and gray are the most popular choices in home appliance colors. The aqua blue accent (which won out over green) was chosen because the gray/blue combination suggests dependability.
On the strictly utilitarian side, the recycler potentially saves users up to 208 gallons of water per week, and installation is said to be a breeze – simply configure the P-trap installation to make room for a three-way valve. (For those with little or no skill, we suggest a plumber.) The countertop control makes the act of dishwater recycling highly ergonomic; no bending over. In addition, there are three industrial filters.
A 340-watt self-priming pump moves the water from the filter to the (internal) nine-gallon storage tank. Finally, a removable front panel makes for instant access and easy cleaning of components, without having to take the whole appliance out from under the sink. Of course, there are a few other greywater recycling projects also underway, ranging from the Eco-Futuristic Komb House (which both recycles and harvests rainwater), to the prefab living unit from BRIO54 LLC (that's not a typo but the company's actual name), but this is the first standalone unit we've covered, and it looks sweet!